Posted Sep 17, 13:24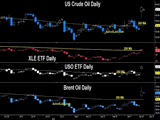 4 hours ago:
The latest rise in oil prices may jeopardize the already complicated balancing act at the Fed (between containing manufacturing deterioration from the trade war) and Trump's managing of Saudi and Iran without provoking further price ascent. Yet, the US administration continues to send signals about reprisals against Iran and that helped crude to its 4th best day on record Monday. US crude oil is currently trading at $62 (from an earlier $63.38), while Brent is at $68.10 (from $71.95 earlier). CAD loses half of its gains as US equity futures head into the red. EUR is the strongest of the day after better than expected ZEW sentiment survey. Data points on Tuesday include US industrial production and homebuilder sentiment. The Premium JPY trade was stopped out, leaving only 1 trade in progress. A new trade shall be issued ahead of the US opening bell.
Read More...
PREMIUM INSIGHTS
Update: Aug 27, 3:12

New Trade of the Week
Trade supported by 2 charts & 5 notes
صفقة جديدة للمشتركين مرفوقة بمخططين مع التفسير بالعربي
PREVIOUS NEWS
Saudi Strike Upends More Than Oil
Sep 16, 2019 11:55:
Oil prices are up 8%, paring earlier gains of nearly 20% seen at the Asia open following the wide-ranging attack on Saudi oil infrastructure. The price spike signalled geopolitical worries rather than a loss of production. The chart below shows the attack caused the biggest supply disruption in history, exceeding supply shocks caused by the Iran revolution and the Arab oil embargo. JPY and CAD are today's FX winners, but gold and silver are up against all currencies, recovering from last week's metals slump. The Empire Fed (ISM from NY Fed) is due later, but world markets remain fixated on the US and Saudi response. Do not forget Tuesday's UK Supreme Court ruling on whether PM Johnson's prorogation of Parliament was legal. Then, all eyes shift to Wednesday's Fed decision and Trump's reactions. The Premium oil short was stopped out, leaving two existing trades in progress. New tactical Premium trades will be issued over the next two days.
Read More...
The Strongest & Weakest
HOT-CHART
Sep 02
Trusting Inv H&S Formation Beyond the Weekend
Some subscribers complained that last Tuesday's Premium trade (Aug 27) shorting the DAX30 was issued too early in the morning (many did not hear the SMS, see the email, Tweet or Telegram...