Posted May 21, 11:14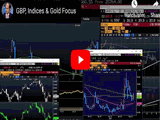 May 21:
It is a session light of data with the USD edging higher and the Aussie underperforming all major currencies following fresh rate cut hints from the RBA. Global indices are in the green after a late session rebound in NY yesterday. Activity picks up tomorrow with UK CPI and Fed minutes, EU Elections on Thursday and UK retail sales on Friday. Also watch any response from Beijing to US ban on Huawei. The video for Premium subscribers below focuses on GBP, gold and indices. A new trade action will be issued on one of our index trades.
Trade Becoming a Problem
Now that the US and China have demonstrated they're in no rush to reach an agreement over the trade spat before June,
the impact on global growth could well become a problem, sufficiently serious to not be adressed in time by the Fed and other major central banks.
Here are some figures:
Read More...
PREMIUM INSIGHTS
Update: May 20, 14:30

2nd Index Trade
Adding Another Index Trade
صفقة ثانية على مؤشر أساسي
PREVIOUS NEWS
Where to now for GBP?
May 20, 2019 12:19:
You know the market is admittedly clueless about sterling's future direction when the experts themselves are saying: "it could go 1% up or 1% down" or, to hear an answer worded in the following manner: "If the Withdrawal Agreement is accepted…., then we will see ….and if it is rejected, then….". I highlighted in last week's chart that implied option volatility on GBPUSD for appears excessively supressed, considering the sharp descent in spot GBPUSD. Those who are bearish GBP will tell you the market is being complacent and volatility is underpricing the risk of heightened political uncertainty (PM May having to leave and allowing a leadership vacuum behind her). Those who are bullish or neutral GBP will explain the relatively low volatility by either indicating that it's too early, referring to the vote in two weeks' time. Others would stated that a smooth Brexit is inevitable.
Read More...
Lame Duck May?
May 17, 2019 11:56:
UK Labour leader Corbyn has just announced the breakdown of Brexit talks with PM May's Conservatives. May blamed it on divisions in the Labour Party. This sets set the stage for her departure, whether or not a Brexit withdrawal agreement passes in the first week of June. But what about the indicative votes? (see below). Could this eventually set the stage for a rebound in the pound as it fell once again Thursday. All currencies are down against the USD with the exception of the yen as risk dips back down. Monday's long DOW30 Premium trade was closed yesterday at 25870 for 450-pt gain. The other index trade remains open.
Read More...
The Strongest & Weakest
HOT-CHART
Mar 14
Ashraf's Trade on Real Vision TV
Ashraf Laidi of Intermarket Strategy, returns to Real Vision to analyze the historical cycles in the British pound and to discuss the fundamental backdrop & news regarding Brexit, runs...