Posted Jul 17, 14:23
| | |
| --- | --- |
| CPI (m/m) | -0.2% |
| Eurozone Final CPI (y/y) [F] | 1.3% |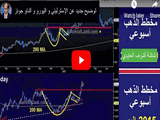 17 hours ago:
The US dollar rose Tuesday on the combination of stronger retail sales and Fed hints that cuts might not be so deep. The pound lagged and cable fell to the lowest since April 2017 on Brexit fears. CPIs for UK, Eurozone and Canada all came in within expectations, but GBP continues to focus on No-deal related remarks 6 days ahead of the revelation of the new PM. US building permits and housing starts fell by more than expected. 2 new trades were issued on Tuesday for Premium members, supported by 5 technical charts.
توضيح جديد عن الإسترليني و اليورو و الداو جونز
From the Fed
Former St. Louis Fed President Bill Poole once argued that markets focus too much on the upcoming Fed meeting and not enough on themes and policies that will persist. At this point, a
July 31 cut is inevitable
. Retail sales were strong with the control group up 0.7% compared to the +0.3% consensus but minutes after the release, Powell brushed it off. He called the
consumer and domestic economy solid but once again pointed to uncertainty
on trade, business investment and inflation.
It's increasingly clear that the Fed thinks it has gone beyond neutral and needs to take back some rate cuts to boost inflation. Evans and Kaplan added more color Tuesday with Kaplan's comments giving a boost to the dollar by framing a cut as 'tactical' and not the start of a cycle. Evans continued to flirt with the idea of a 50 bps cut but was clear that he only sees 50 bps in total easing this year and whether it was all at once or in two parts was a matter of strategy.
Read More...
PREMIUM INSIGHTS
Update: Jul 9, 18:20

3 New Charts & Analysis
Ahead of Powell
تحديث لصفقة من صفقات الدولار مع ٣ مخططات بالتفسير العربي
PREVIOUS NEWS
Shale & Powell Resistance Eyed
Jul 16, 2019 12:40:
USD is up across the board, while GBP is at new 2019 lows on fears of no-deal Brexit despite the strongest rise in UK earnings/pay in over 11 years. An important US data report is due shortly, followed by several Fed speakers including Powell (see below). Will Powell's speech present new resistance to the US dollar as it did last week (as is Shale doing to oil)? The rise of US shale has changed all the rules for crude oil and trading around hurricanes is no exception. CFTC data showed an increasingly crowded GBP trade.
Read More...
The Strongest & Weakest
LATEST ARTICLE
May 24
After Theresa May
Now that PM Theresa May has announced stepping down from the Conservative Party leadership as of June 7, the ongoing political chaos will shift temporarily from striking a deal on the Withdrawal...
HOT-CHART
Mar 14
Ashraf's Trade on Real Vision TV
Ashraf Laidi of Intermarket Strategy, returns to Real Vision to analyze the historical cycles in the British pound and to discuss the fundamental backdrop & news regarding Brexit, runs...