Articles
Gold & Yen's Perfect Desert Storm
Gold not soTough Against the Others

One striking development involving gold is the failure to regain its previous record highs against the robust yen and Aussie. Most importantly this week, gold did reach new highs against the euro, sterling and Swiss franc, yet will ultimately fail to close the week above those highs. The fact that gold was unable to close the week at new highs against these currencies, simultaneously with the unfolding global market sell-off, highlights the importance of gauging the secular momentum of the precious metal beyond in USD terms currency. Therefore, as gold steals the headlines via its performance against USD, it is helpful to scrutinize its performance against more robust assets (currencies) for a truer reflection of its ascent.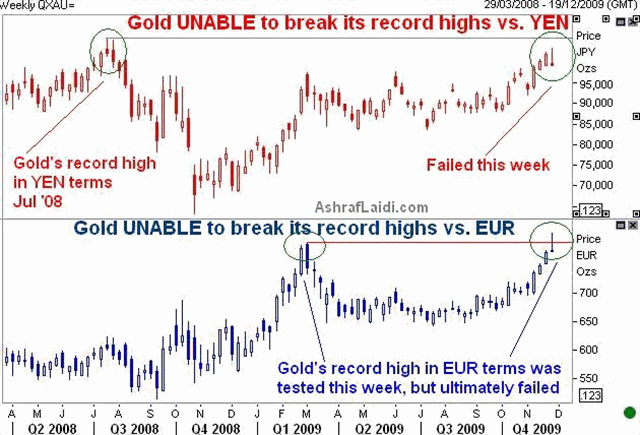 While the above analysis does not constitute a negative signal on gold, it sheds light on the preliminary signs of a temporary consolidationeven against the greenback. For more details on multi-FX approach to golds performance, see Chapter 1 of my book Currency Trading & Intermarket Analysis
Oil/EURUSD Ratio Warning Signal
Last week, we used the Oil/EURUSD ratio as a warning signal for oils eroding ability to maintain its gains with dollar weakness. Since then, the Oil/EURUS Ratio fell to 47 from last weeks 52, exposing the speed of the fuels decline relative to the rise in EUR (and the falling USD). Oils weakness despite recent USD damage highlighted oil speculators inability to drive up USD-carry trades, which was no different from US equity indices inability to regain those important retracement levels (10,335 Dow & 1,120 S&P500). And so we concluded that oil would be a major victim at the next bout of risk aversion. Today, oil plummeted by as much as $5/barrel to a 7-week low of $72.50. While we may see a rebound to as high as the 21-day MA of $78, the string of 6 (six) consecutive lower highs on weekly oil remains a solid case for the bears.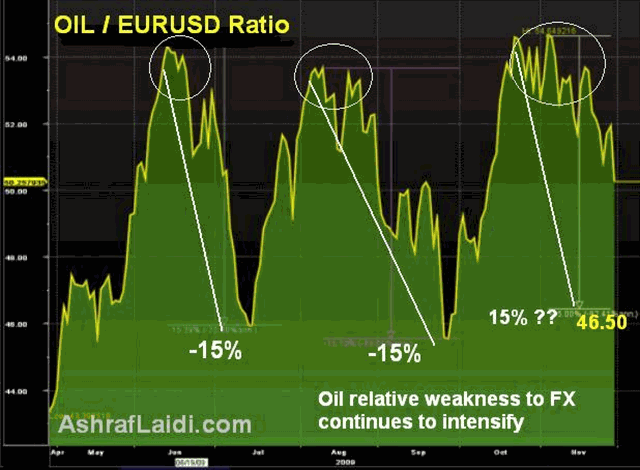 Yen's Perfect Desert Storm
The Yens Perfect Storm escalated overnight amid the combination of unexpected decline in Japanese unemployment and falling global equity futures following the Dubai fallout. FX traders shall be eager to find out how Japanese officials will follow up on their threats to stabilize their soaring currency in the midst of the latest bout of global risk aversion, which was bound to emerge considering equity indices largely-dollar driven gains. Chances of a successful yen-selling intervention (success = prolonging yen weakness) would largely depend on officials ability to stabilize falling world bourses, rather than the volumes of actual yen selling. And thus, it would be irresponsible to assume that yen-bound FX flows (new speculative yen longs & unwinding of yen shorts) be halted at a time when risk appetite has been violently shaken by a new source of event risk (Dubai fallout rather than the usual suspects of weak US macro, US/UK banks or Eastern European banks).
The yen signals were all here. Readers of this website were flooded with warnings about yen strength here and here as they were reminded on the changing face of the carry trade, whereby the US dollar had replaced the yen as the main funding currency to these trades (courtesy of the Feds dovish rhetoric), especially after US dollar 3-month LIBOR fell below its JPY counterpart in August, for the first time ever in August. The yens diminishing role as a funding currency was also a result of the Bank of Japans announcement to end purchases of corporate debt by year-end. We also constantly reminded readers of yens outperformance against all currencies in each of the last four Fridays.
Can Japan Learn from US How to Weaken its Currency? Aside from threatening at coordinated intervention action (central banks selling the yen), Japanese officials can take a page from the Federal Reserve and resort to fresh liquidity injections. One way would be for the Bank of Japan to reverse last months decision that it would halt purchasing corporate debt beyond year-end. Markets must also be aware of the emerging rift between the Japanese Ministry of Finance (new political power), criticizing the Bank of Japan (appointed & approved by LDP) and the central banks rosy forecasts. Thus, Japanese bureaucrats may continue talking down the currency, but as long as the BoJ remains insistent on gradually exiting its strategy of emergency liquidity measures & issuing brighter economic outlook, yen downside would remain limited--especially if the Dubai Debt fallout is accelerated in world bourse via year-end profit-taking.
SEE YESTERDAY'S CHART ANALYSIS DRAWING ATTENTION ON THE DJIA RELATIONSHIP WITH THE SHANGHAI COMPOSITE INDEX, AND HOW LOSSES IN THE LATTER, WILL INEVITABLY PAVE THE WAY FOR THE REQUIRED RETRACEMENT IN THE DJIA. Eventually, Shanghai went on to lose 2.4% on Friday and the Dow losing 1.3%. The Shanghais outside bearish week suggests more losses next week.
For more frequent updates and trades, subscribe to our Intraday Market Thoughts and and join our expanding followers on twitter twitter.com/alaidi