Intraday Market Thoughts Archives
Displaying results for week of Jul 14, 2019
Jul 17, 2019 14:23 | by Adam Button
The US dollar rose Tuesday on the combination of stronger retail sales and Fed hints that cuts might not be so deep. The pound lagged and cable fell to the lowest since April 2017 on Brexit fears. CPIs for UK, Eurozone and Canada all came in within expectations, but GBP continues to focus on No-deal related remarks 6 days ahead of the revelation of the new PM. US building permits and housing starts fell by more than expected. 2 new trades were issued on Tuesday for Premium members, supported by 5 technical charts.
توضيح جديد عن الإسترليني و اليورو و الداو جونز
Click To Enlarge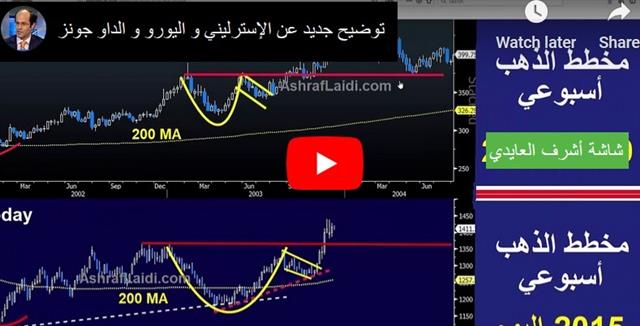 From the Fed
Former St. Louis Fed President Bill Poole once argued that markets focus too much on the upcoming Fed meeting and not enough on themes and policies that will persist. At this point, a
July 31 cut is inevitable
. Retail sales were strong with the control group up 0.7% compared to the +0.3% consensus but minutes after the release, Powell brushed it off. He called the
consumer and domestic economy solid but once again pointed to uncertainty
on trade, business investment and inflation.
It's increasingly clear that the Fed thinks it has gone beyond neutral and needs to take back some rate cuts to boost inflation. Evans and Kaplan added more color Tuesday with Kaplan's comments giving a boost to the dollar by framing a cut as 'tactical' and not the start of a cycle. Evans continued to flirt with the idea of a 50 bps cut but was clear that he only sees 50 bps in total easing this year and whether it was all at once or in two parts was a matter of strategy.
Markets and the Fed are on the same page in terms of near term action but where the rhetoric and market pricing diverges is into 2020. There is a 45% chance of four or more cuts by this year priced into the Fed fund futures market. The implication is that there will be a deeper slowdown but the Fed and other central banks could engineer a soft landing.
Back to Politics
Of course, since it's 2019, it all comes back to politics. What markets are grappling with is Brexit and the US trade war. Johnson and Hunt both said they would need to tear up the Irish border backstop Tuesday and a leak suggested
Johnson was serious about keeping out MPs around the Oct 31 Brexit deadline. That helped to send cable
down 110 pips. On the US side, Trump took a less optimistic tone on China and talked about tariffs. That hurt equities.
Inflation will be the theme in the day ahead as the pound searches for a spark of life in a market that's betting heavily against it, according to CFTC data. The consensus is for a flat monthly reading and 2.0% y/y rise.
Earlier today, Canada's June CPI held at 2.2% (median core y/y) with the figures among the few spots showing an acceleration in inflation (and an acceleration in activity). The Canadian dollar remains by far the strongest currency so far this year as it is over the last 6 months.
Act
Exp
Prev
GMT
CPI (m/m)
-0.2%
-0.3%
0.4%
Jul 17 12:30
Eurozone Final CPI (y/y) [F]
1.3%
1.2%
1.2%
Jul 17 9:00
Jul 16, 2019 12:40 | by Adam Button
USD is up across the board, while GBP is at new 2019 lows on fears of no-deal Brexit despite the strongest rise in UK earnings/pay in over 11 years. An important US data report is due shortly, followed by several Fed speakers including Powell (see below). Will Powell's speech present new resistance to the US dollar as it did last week (as is Shale doing to oil)? The rise of US shale has changed all the rules for crude oil and trading around hurricanes is no exception. CFTC data showed an increasingly crowded GBP trade.
Click To Enlarge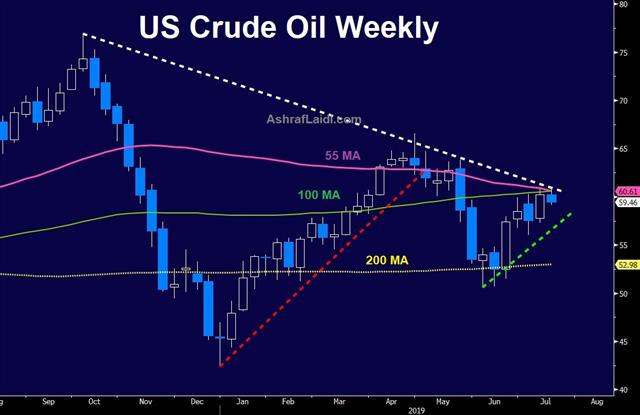 WTI crude rose to the highest since late-May last week as it climbed above $60. There was some concern heading into the weekend with Hurricane Barry threatening the Gulf coast. It ultimately made landfall as a Category 1 stor and underperformed most forecasts.
The start of hurricane season is a fresh reminder that old rules for US crude may not apply. A decade ago, the US imported roughly 5 million barrels per day of crude via the Gulf coast that meant that any disruption due to storms would leave the market undersupplied and prices would rise.
But due to the shale revolution, Gulf net exports are now roughly zero. That could leave gluts points and drive down prices, especially if refineries are forced to close. At the same time, there will still be offshore production shutdowns so global supply could be curbed, but the mechanics are no longer nearly as straightforward as they once were and the trade is often to fade any storm-related spikes.
Retail Sales, Powell et al
Looking ahead, Tuesday's
release of US June retail sales
(control group) is expected to show a 0.3% rise from a downward revised 0.4%. Fed Vice chair
Bowman
speaks 15 mins before retail sales, followed by Fed Chair
Powell
in Paris at 13:00 Eastern (18:00 London). Chicago Fed's
Evans
will speak 2.5 hr later.
CFTC Commitments of Traders
Speculative net futures trader positions as of the close on Tuesday. Net short denoted by - long by +.
EUR -36K vs -31K prior GBP -73K vs -64K prior JPY -4K vs -1K prior CHF -10K vs -11K prior CAD +9K vs +6K prior AUD -54K vs -58K prior NZD -22K vs -24K prior
The general theme over the past few weeks is US dollar longs headed to the sidelines but that's not the case in cable as specs bet that whatever is troubling the US will be overshadowed by relentless Brexit uncertainty.
Act
Exp
Prev
GMT
FOMC's Bowman Speaks
Jul 16 12:15
Fed Chair Powell Speaks
Jul 16 17:00
FOMC's Evans Speaks
Jul 16 19:30
Jul 15, 2019 17:05 | by Ashraf Laidi
نلقي نظرة على قطاعات السوق التي تعرض أفضل أداء خلال أي جزء من الدورة الاقتصادية. يكون أداء بعض القطاعات جيداً خلال فترات التوسع الاقتصادي، بينما ترتفع قيمة القطاعات الأخرى خلال التباطؤ الاقتصادي والركود. التحليل المفصل