Hot-Charts
Familiar Fail in Dow SPX Ratio
If you think the post-Trump jump in the DOW30 is highly exaggerated, especially relative to the SP500, then take a look at this chart. Interestingly, the DOW/SPX Ratio failed to break above its 200-WMA. The last time such prominent failure occurred was in May 2013, also a time of surging yields, more commonly known as the Taper Tantrum. This backs a new trade in our Premium Insights.
Click To Enlarge
Click To Enlarge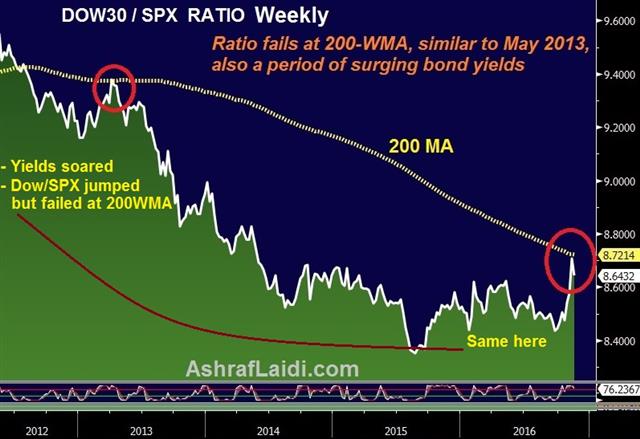 More Hot-Charts
Nov 12, 2021 12:55 | by Ashraf Laidi

https://www.binance.com/en?ref=13288560...

Nov 8, 2021 17:05 | by Ashraf Laidi

We know that Gold's commitment reports from the Comex is for the trading working period ending in a Tuesday.

Aug 10, 2021 18:42 | by Ashraf Laidi

The below analysis was carried out last Friday (Aug 6th), after which both BTC and ETH have risen more than 14% each.
Hot-Chart Archives