Articles
Aussie's Risk-Based Bounce
Aussie is the days best performing currency out of a group of 9 currencies due to market optimism resulting from the latest government stimulus package of A$42 billion and the latest aggressive rate cut from the RBA.

AUDJPY is seen particularly bullish in the event of a positive close in US equities and Asia, which would trigger fresh risk buying and an additional boost for the pair. Last week's 150-bp rate cut from the RBNZ to 3.50% took rates below those of Australia for the first time in 10 years. The RBA had to cut by 100-bps to keep its rates below the RBNZ's. Considering emerging Aussie optimism from monetary and fiscal stimuli, the 100-bp cut would be deemed neutral too positive, may helps boost the currency to as high as the 65-cent figure. AUDNZD is likely to extend gains towards 1.28.
Click To Enlarge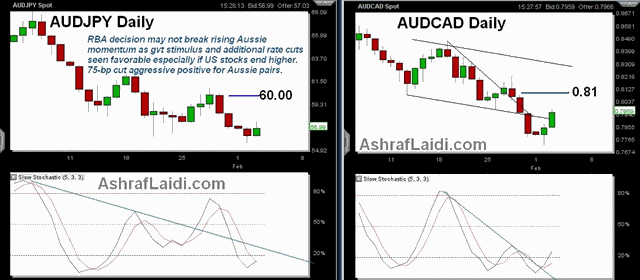 The VIX chart is set for further declines in the short-term, heading towards the 40 level (from todays 43.90), with market bulls likely to eye the 200-day moving average (currently at 36.75). Rather than the end of the bear market, the incoming retreat in volatility is seen as another temporary opportunity for the next relief rally in the VIX (and renewed pullback in stocks).


Click To Enlarge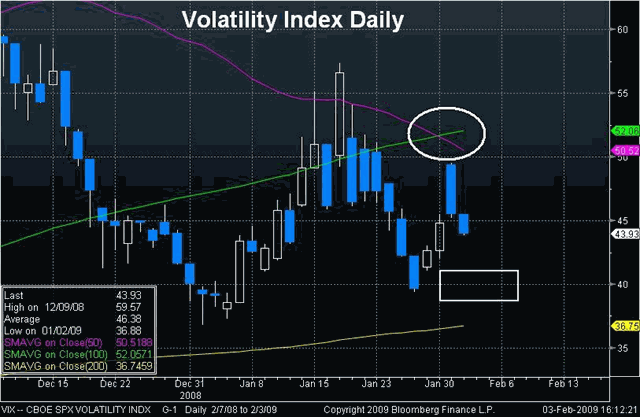 Risk appetite is also boosted by the Bank of Japans decision to buy risk assets via its purchase of shares in major Japanese banks. Seven years after the BoJ purchased shares in ailing banks to stabilize the tumbling equity market, the central bank returns overnight with a purchase of 1 trillion yen worth of shares aimed at boosting top banks capital. The purchases, which will go into effect until April 2010, is a reflection of the escalating risks emerging from falling bank lending, a soaring yen, and deteriorating capital partly dragged by struggling equities.

Cognizant of the incoming event risks from data releases that are likely to trigger fresh yen strength, the BoJs purchases may also be aimed at staving off the exceedingly positive bias in the currency. Recall that the BoJ purchases of Japanese shares in 2002 coincided with yen-selling intervention--which at the time had more fundamental validity as Japan was isolated in a deflationary spiral. Today, however, any overt intervention to sell the yen has little fundamental support due to the persistently downward path in G10 interest rates and negative risk environment.