Intraday Market Thoughts
AUD above 200 DMA
The US dollar ignored an upbeat ADP report in US trading Wednesday and trended lower. Commodity currencies diverged with the Australian dollar leading while the Canadian dollar lagged. Another busy data slate is due in Asia-Pacific trading. The Premium Insights closed out of the AUDJPY long with a 258-pt gain in order to lock up gains and assess the potential for fresh entry ahead of tonight's Aussie trade figures and tomorrow's Aussie retail sales. Another AUD trade remains currently open.
في آخر فيديو: "العملات، النفط و الذهب"
Click To Enlarge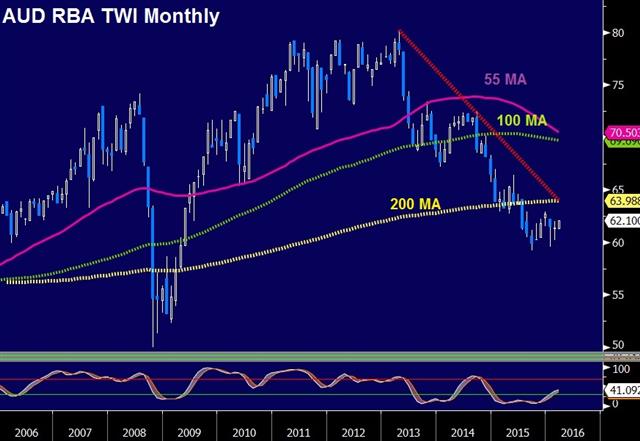 The ADP report showed 214K new jobs in Feb compared to 190K expected and that sent the US dollar to a session high of 114.55 against the yen but it lasted only moments. One reason was a -12K revision to the prior report, another one was that the ADP report has recently been a poor predictor of NFP.
Afterwards, the US dollar continued to deteriorate. Cable, in particular, took advantage. It rose to 1.4094 from as low as 1.3912. The Brexit debate has fallen off the front pages for now and that may inspire a continued bounce.
Separately, the AUD/CAD divergence today is an interesting shift. The Canadian dollar has been in a major retracement phase while AUD was languishing near its long-term low. Or at least it was until today when it surged following a strong Q4 GDP reading. AUD may now take the baton as domestic economic worries ebb.
Technically, AUD/USD broke above the 200-day moving average for the first time since 2014 and also cruised through the February highs. There is a cluster of resistance at the Jan/Oct highs in the 0.7325/85 range but beyond that is some clear sailing. Whether it gets there will depend on how risk assets perform but the 4.3% gain in China yesterday and a second day of gains in the S&P 500 are positive signs. The major hurdle is the data and central bank slate in the next two days.
In the near-term, the data calendar remains busy beginning with Australian trade balance 0030 GMT. Q4 GDP showed falling imports and that's something to watch out for. The consensus is for a $3.2B deficit but a better-than-expected number on falling imports wouldn't be such a great sign.
A speech from BOJ deputy Nakaso is due at 0130 GMT and that's followed by the Caixin China services PMI at 0145 GMT. The prior was 52.4. The slate wraps up with Japan services PMI from Nikkei at 0200 GMT. The prior was 52.4 but it's rarely a market mover.
The recent trend in the market is for counter-trend moves in Asia that are reversed in US trading, especially after the London fix. There is chatter about low volumes so flows could be in charge.
Act
Exp
Prev
GMT
ADP Employment Change (FEB)
214K
190K
205K
Mar 02 13:15
Trade Balance (JAN)
-3,100M
-3,535M
Mar 03 0:30
Markit PMI Composite (FEB)
50.1
Mar 03 14:45
Markit Services PMI (FEB)
49.8
Mar 03 14:45
ISM Non-Manufacturing PMI (FEB)
54.0
53.5
Mar 03 15:00
PMI (FEB)
52.4
Mar 03 1:45
Latest IMTs