Intraday Market Thoughts
AUD on Fire, Fed Flailing
The Australian dollar is on an impressive run but has stumbled so far in Asia-Pacific trading while EUR leads the way. We look at the Fed's communication conundrum and the news from the IMF meeting. Weekly CFTC positioning data showed commodity currency shorts edging towards the sidelines.
Click To Enlarge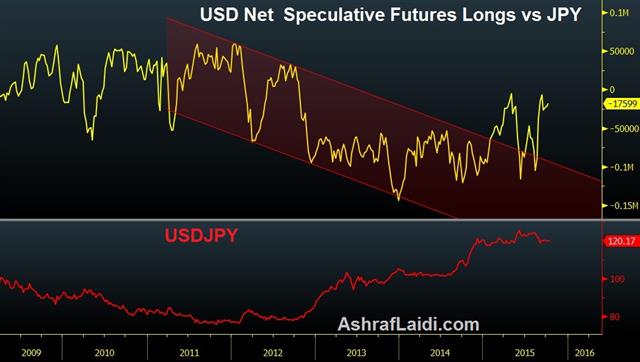 Markets opened without a sharp moves but the Australian dollar is moderately lower and the euro mildly higher to start Asian trading.
AUD/USD is on a spectacular run with gains in 8 consecutive days. Amazingly, it's the second eight-day rally since the start of September. The cumulative gain then was 282 pips compared to 351 now. There hasn't been a longer winning streak since March 2009 when AUD/USD climbed for 10 straight days after the S&P 500 hit the crisis low.
Central bankers and politicians were in the spotlight on the weekend due to the IMF meeting in Peru. The Fed's Fischer noted the soft jobs and export reports but said recent events probably won't have a significant effect on policy. He said he continues to expect a rate hike this year.
This has become a familiar refrain from the Fed but Dec hike pricing remains at 39%. If and when the Fed decides it wants to hike; they will have a communication problem because markets just don't believe hawkish rhetoric at the moment.
BOC Governor Poloz offered conflicting comments. He said there was evidence that businesses are becoming more confident and ready to invest but he also said the BOC won't hike rates to cool housing and could commit to keeping rates lower for longer.
On the topic of hot housing markets, one metric that's eye-popping is New Zealand REINZ September home sales report. Sales volumes rose 38.3% y/y and Auckland prices were up 25.4% y/y. With rates lower, there is likely more to come but that is a frantic market. Otherwise the economic data calendar is light.
Commitments of Traders
Speculative net futures trader positions as of the close on Tuesday. Net short denoted by - long by +.
EUR -89K vs -88K prior JPY -18K vs -22K prior GBP -4K vs -2K prior AUD -41K vs -49K prior CAD -35K vs -42K prior CHF -4K vs -3K prior
Listening to chatter in the market, the enthusiasm for US dollar longs has definitely sagged but futures positioning still shows heavy bets. That leaves USD vulnerable to a larger squeeze. AUD was the second-largest net short position but the recent rally will have eaten into that further.
Latest IMTs