Intraday Market Thoughts
Betting against the Fed & USD
The technical breakdowns in the US dollar after Friday's weak data releases raise deeply troubling questions about the currency. The Australian dollar was the best performer last week while the US dollar lagged. CFTC positioning showed the completion of the CAD-whipsaw. The Premium Insights closed out of the GBPUSD long with 120-pip gain and issued a new set of charts on the pair. A new JPY trade was also added earlier in Friday.
Click To Enlarge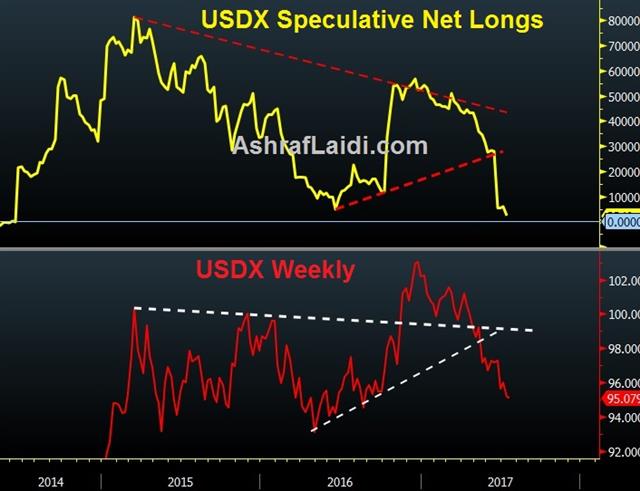 You can indeed fight the Fed. Betting against the dollar this year has been the best FX trade, as it has over the last week. Policymakers' insistence that growth and inflation are picking up has been repeatedly undermined by soft data.
On Friday, retail sales and CPI data missed estimates and the market threw in the towel. The dollar was beaten up across the board and finished on the weekly lows. The lack of buyers at the lows points to more trouble ahead. In addition, a few dollar charts are breaking down. On Friday, cable rose to the highest since September 2016. Remember, the UK is facing political uncertainty, Brexit uncertainty and poor economic data.
NY Fed's Q3 2017 Nowcast GDP forecast remains at 1.8% and Q2 GDP forecast revised down to 1.9% from 2.0%.
Australia has also struggled this year but on Friday broke above a double-top at 0.7750 and finished the week just a handful of pips away from the 2016 high of 0.7835. CAD, EUR and everything else but USD/JPY is also in a precarious position.
Ultimately, it's still tough to bet against the Fed because they're only a few good data points away from raising rates again but the calendar is light until the final few days of July and that argues for more dollar weakness ahead.
CFTC Commitments of Traders
Speculative net futures trader positions as of the close on Tuesday. Net short denoted by - long by +.
EUR +84K vs +77K prior GBP -24K vs -28K prior JPY -112K vs -75K prior CHF 0K vs 0K prior CAD -9K vs -39K prior AUD +37K vs +32K prior NZD +32K vs +29K prior
The deeply misguided CAD-short trade has virtually been erased. The market piled into bets against the loonie on signs of trouble in the Canadian housing market the story proved to be a canard and the Bank of Canada massacred the trade. Ultimately, the market will get long CAD on signs of rising rates but it will need to lick its wounds first.
The other development is the shift to yen shorts. That's something we focused on last week. The BOJ is the only central bank that isn't making growing hawkish shift, and we learned on Thursday that inflation forecast might even be cut. Those shorts are likely in it for the long haul.
Act
Exp
Prev
GMT
CPI (q/q)
0.2%
1.0%
Jul 17 22:45
Latest IMTs