Intraday Market Thoughts
Doves' Blood in Eurozone Water
When the ECB drops a hint of tightening it's like a drop of blood in a shark tank, as the market showed on Thursday. NZD and EUR were the top performers while the US dollar lagged. Japanese current account data will close out the week. A 3rd EUR trade has been issued to the Premium Insights.
صفقة جديدة أصدرت على اليورو للمشتركين مرفقة بتفسير بالعربي تحت المخطط و الرجاء القراءة لاستيعاب التمييز بين صفقة اليوم و أمس
Click To Enlarge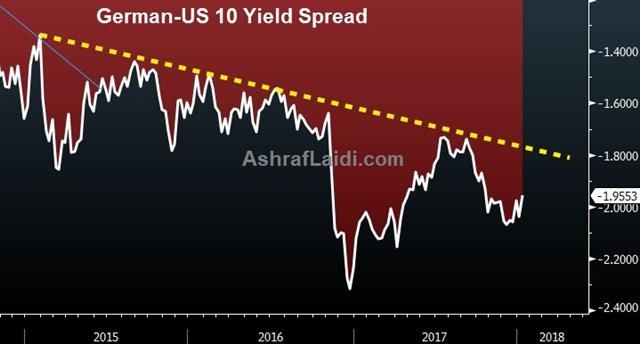 The ECB minutes offered a small hint about what's coming next, referring to the area's 'expansion' rather than its continued 'recovery' but that was all it took to send the euro to 1.2050 from 1.1940. In recent press conferences, Draghi has taken pains to keep the currency from jumping but the minutes offered more colour about the "continued robust and increasingly self-sustaining economic expansion" as policymakers contemplate what to do next.
The market is extremely one-sided with net euro longs at the most extreme on record but even this week's three-day, 170-pip decline wasn't enough to shake out any longs.
The stability got a hand from the continued struggles of the US dollar. An extremely strong 30-year bond auction Thursday weighed on the dollar along with a miss on PPI. Friday features the CPI and retail sales reports. Both will be critical for the US dollar and the Fed deciding what to do next.
First, Japanese current account numbers will be released at 2305 GMT. Don't expect a significant market reaction. Instead, watch out for continued reports about bond buying, trade and Bitcoin exchanges.
Latest IMTs