Intraday Market Thoughts
Brainard Dressed for the Season
'Tis the season of high volatility and today's speech from Fed Gov Brainard will surely kick off those alternate +2% -2% daily changes in US indices, typical of Sep-Oct season. The core of Fed doves stuck back against the idea of a September hike with an aggressively dovish speech from Brainard Monday. The dollar slipped as the rate rise odds fell. Chinese data is due up next. Some clients to Ashraf's Premium Insights have queried why Ashraf takes profit in trades before their stated target. Today's 239-pt rebound in the Dow is one explanation as why the short entry in the Dow at 18580 was closed at 18180 on Friday, despite having stated a target at 17700.
Click To Enlarge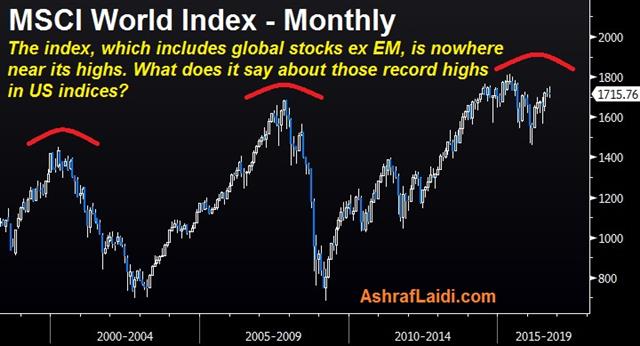 Brainard left no doubt about where she stands after her speech. She laid out a one-sided case for leaving rates unchanged and waiting months to re-evaluate. The comments carried extra weight because the speech was announced last-minute and they were the final words before the Fed's blackout period.
The dollar dropped a half-cent across the board initially. On some fronts the losses were recovered but commodity currencies and cable maintained the gains. The stock market applauded another commitment to cheap money and the S&P 500 jumped 1.5%.
The implied probability of a Fed hike in September fell to 22% from 26%. The only piece of major economic data left before the FOMC is retail sales on Wednesday but even in the event of a strong report, it's difficult to envision the odds rising above 30% and hiking with anything lower risks shocking markets and undermining confidence in the Fed at a time when a Presidential candidate is attacking Janet Yellen.
Our focus is now on December and whether or not they will hike then. But that will have more to do with economic data then communication on Sept 21.
Looking ahead, the focus on the Fed has been justified in the past week but there's a risk of tunnel vision. The BOE is Thursday and the BOJ next Wednesday before the Fed. China has fallen to the back pages of the business section but it's always a danger.
We will be eyeing Beijing in the hours ahead with the release of August industrial production at 0200 GMT. The consensus is for a 6.2% y/y rise, which is a slight improvement on the 6.0% y/y pace in July. At the same time, the August retail sales report is forecast to show a 10.2% y/y rise.
Act
Exp
Prev
GMT
Industrial Production (y/y)
6.2%
6.0%
Sep 13 2:00
Latest IMTs