Intraday Market Thoughts
Broad ISM Contraction & Skittish Markets
Confidence in the idea of a Fed hike took a hard hit on the disappointing ISM manufacturing index, which showed a contraction in the headline, new orders and employment components. The dollar was near session highs before the data but fell around 80 pips across the board after the release. Construction spending data also puts a kink in GDP. In the Oremium trades, AUDNZD was stopped out and a new JPY trade had been issued prior to the ISM. A second Premium video will be posted this evening ahead of NFP.
Click To Enlarge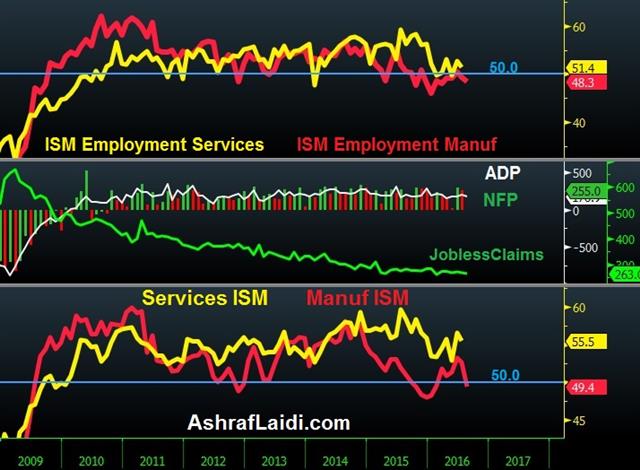 The signal from the ISM manufacturing index may be that economic data will need to run a nearly perfect gauntlet between now and Sept 21 for the Fed to hike. Markets will also have to cooperate. Right now, odds of a 25-bp hike in Sept have fallen to 30% from 42% last week.
Manufacturing data has been routinely ignored over the past two years but a dip in ISM manufacturing to 49.4 from 52.0 (and 52.6 expected) sent dollar bulls scrambling. USD/JPY was at 104.00 prior to the release and quickly fell to 103.19 afterwards.
At the moment, the market is hyper-focused on non-farm payrolls but it's only part of the puzzle before the FOMC decision. What the ISM manufacturing reaction might be saying is that if retail sales, CPI, durable goods orders, services PMI or trade miss estimates, the Fed may wait.
The construction spending numbers also leave the Fed with a bit of a headache. The good news was that June spending was revised to +0.9% from -0.6% and that should lead to a positive revision to Q2 GDP. The bad news is that July spending was flat and that will restrain Q3 growth.
Other numbers showed initial jobless claims at 263K vs 265K expected; and non-farm productivity for Q2 was revised to -0.6% from -0.5%. That's the third consecutive quarter of contractions in productivity. That fall may give the Fed pause when it sees rising wages elsewhere.
The other story early was the resilience of the UK economy. The Markit manufacturing PMI jumped to 53.3 from 48.3. The economy is showing excellent resilience to the Brexit vote and that's given cable a more than 150 pip boost.
Act
Exp
Prev
GMT
PMI Manufacturing
53.3
49.1
48.3
Sep 01 8:30
Construction PMI
46.6
45.9
Sep 02 8:30
AIG Performance of Manufacturing
46.9
56.4
Aug 31 23:30
Latest IMTs