Intraday Market Thoughts
Cable Crawls Back
Maybe populism isn't so bad after all? The pound & USD were the top performers for the second day while the Japanese yen lagged. Our Premium EURGBP trade was stopped out.
Click To Enlarge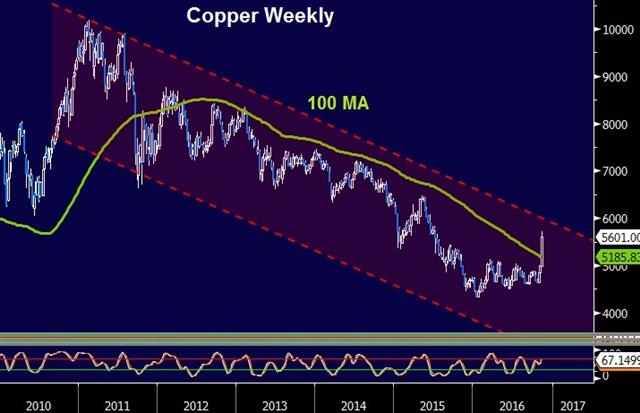 FX markets continued to reward the US dollar for the election results. Congressional leaders have said comprehensive tax reform will be one of the top priorities and that has people salivating about the idea of lower corporate tax rates, waived repatriation penalties and business investment. In addition, talk of removing regulation has been cheered by the financial and energy sectors.
The sudden embrace of trade-deal renegotiation by the market has helped to take some of the fear out of Brexit. That's left an opening for a GBP recovery and it gained strongly across the board Thursday. Cable climbed 150 pips to the best levels in five weeks. Note that GBP/JPY climbed and closed above the 100-day moving average for only the third day this year in what could be a technical break.
Economic data Thursday included an improvement in initial jobless claims to 254K from 265K and Bullard said the Fed will have to wait-and-see on the economic results of the election. That sounds like a continued endorsement of a December hike.
The market is focused on comments from Trump at the moment. Some traders noted that certain rhetoric regarding health and banning Muslims was removed from his campaign website. Meanwhile, commentary on building a wall on the Mexican border remained. That and signals that Canada is also open to renegotiating NAFTA sent the peso back down to the election lows.
Murmurs about the top spots on Trump's cabinet continue to do the rounds. The choice for Treasury Secretary and other key allies will send signals about how anti-establishment he plans to be; or if it was all just campaign rhetoric.
In the short term, we continue to watch CNY moves on jitters Trump could take on Chinese trade. The calendar is light with only Japan's tertiary index due at 0430 GMT. The reading for Sept is expected to be down 0.2% m/m.
Latest IMTs