Intraday Market Thoughts
CAD on Canvas, Pres Debate Next
Not even an oil rally could undo the negative Canadian dollar sentiment on Monday in a sign of trouble ahead of the loonie. The yen was the top performer while USD lagged alongside CAD. Data on Chinese industrial profits are due next. 6 of 8 existing Premium trades are in the green, 2 are flat. 5 in FX, 2 in metals & 1 in equity index.
Click To Enlarge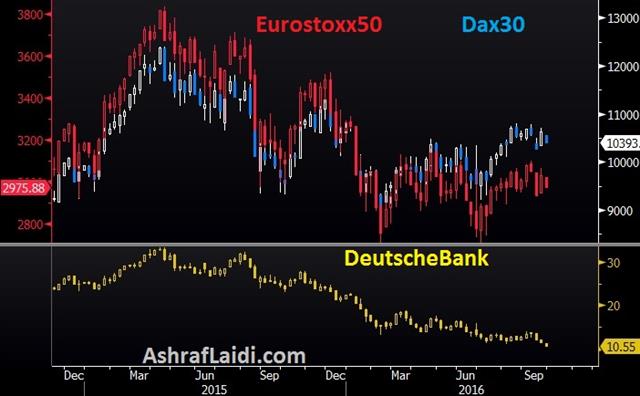 USD/CAD is approaching some key technical levels ahead of Poloz's speech. All else equal, the pair should have fallen on Monday as oil prices climbed 2.6% and the US dollar generally softened. But all else wasn't equal and the weak Canadian data on Friday continued to hurt the loonie.
In addition, the first US Presidential debate takes place later Monday at 0100 GMT and with Trump climbing in the polls, the risks to Canadian-US trade deals and relations are rising and that could be a long-term CAD drag.
Speculation is growing that the Bank of Canada is readying the market for a dovish tilt, and perhaps another rate cut. In his most-recent appearance, Poloz said growth and inflation forecasts were likely to be revised lower.
At the moment, USD/CAD is approaching the 200-day moving average at 1.3244 and the July high of 1.3253. With spot only 20 pips below, Poloz could easily push the pair through or set the stage for a firm rejection.
Another item on the agenda in the hours ahead are the BOJ Minutes but note that it's for the July meeting, which was the preparatory meeting for last week's changes. It's unlikely to hold anything new or unknown.
The final event is the August Chinese industrial profits data at 0130 GMT. However, the fallout from the Presidential debate is likely to be the main trading topic in the day ahead.
Act
Exp
Prev
GMT
FOMC's Fischer Speaks
Sep 27 15:15
Latest IMTs