Intraday Market Thoughts
CAD Spikes on Jobs, GBP Holds
CAD ends a 4-day losing streak to emerge the day's best peforming currency, gaining on a blockbuster jobs report of a +66K rise in jobs vs expectations of a 5K. USDCAD was capped at the 55-DMA before falling below 1.33. Sterling maintains a comfortable hold above 1.29 following a volatile Thursday session, which saw the pair drop more than a full cent before ralling back 150 pips (more below). Thursday's index trade remains open and is 350 pts in the green. For more detail on the Premium Insights' use of stops and entry levels, please take a look at the guide.
Click To Enlarge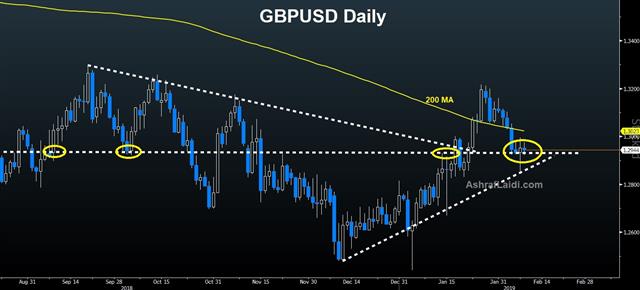 Carney is one of the final major central bankers to retain any hawkish bias after he warned that the UK economy could accelerate and rates could go up on a positive Brexit outcome. Cable was near 1.2850 before his comments then jumped to 1.2995. The rebounded was halted by resistance at 1.3000 at that point and it drifted back down to 1.2950. Sterling trades remain alert ahead of next week's anticipated vote in Parliament over PM Theresa May's plan to exit the EU.
The market is struggling to understand Carney's plan. He also once again warned that rates could go up on a no-deal Brexit because the resulting fall in the pound would be inflationary. We doubt that would take place because the resulting economic damage would be highly disinflationary.
Elsewhere, China-US trade tensions hurt sentiment sending stocks and bond yields lower. Trump said there would be no meeting with Xi before March 1 and White House economic advisor Kudlow said there was "a pretty sizeable distance to go" to make a deal. DOW30 broke 25k, SPX below 2690 and volatility will stand a better judge when China returns from the New Year holiday. US retail sales will finally be released next week.
Latest IMTs