Intraday Market Thoughts
Central Bank Subtleties
Key messages from the Fed and ECB were delivered in completely different fashion on Wednesday, with important implications for the market. The EU has decided to extend Brexit til October 31st, a proposal that will have to be approved by British Parliament. More central bank talk is coming in the day ahead. Market volumes wind down as traders unoficially start a long weekend ahead of the Easter & Passover holidays over the next 2 weeks. 6 out of the existing 8 Premium trades are currently in the green. 5 in currencies, 2 in commodities and 1 in crypto.
Click To Enlarge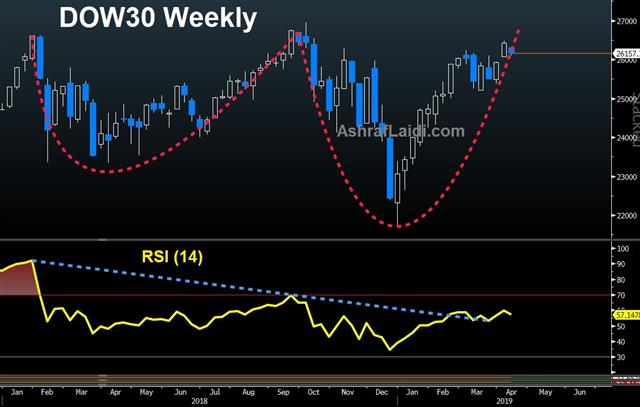 Sometimes central banks are subtle, other times they are straight forward. Once in awhile both happen on the same day and that was the story on Wednesday.
The message from the FOMC Minutes was a completely clear impression that the Fed doesn't know what's going to happen next and does not have a notable bias. The text said the majority saw rates on hold through 2019 and that patience is needed. They said time would be needed to assess if Q1 weakness spills into Q2.
As Ashraf summarized: "We could hike, we could cut, but in truth we'd like to believe we've reached equilibrium. Leave us alone and don't expect us to hike during elections."
Draghi meanwhile was playing a different game. He characterized the meeting as one where the Governing Council acknowledged Eurozone economic weakness and that it will extend through the rest of the year. He said the base-line was only to act if negative contingencies developed. He, however, repeatedly emphasized that all options were available if needed.
The message here was much more subtle. He was saying (to paraphrase), 'don't bet against the eurozone because if there is a deterioration, we are ready, we still have ammo.' He has undoubtedly seen the buildup in spec positions against the euro and the worries about European financials. The question is: Will the market call his bluff?
Looking ahead, we hear from the Fed's Clarida and Bullard in the day ahead. Clarida spoke on Tuesday but didn't touch on the outlook. There has been some shifting towards a more-constructive tone among Fed speakers in the past week, we will watch if that continues. Even a hard commitment to the sidelines poses upside risks for the dollar with the market pricing in a 58% chance of a cut before year end.
Another central banker to watch is the BOC's Wilkins. Canadian data has been far better than expectations so far this year but the outlook is plagued by growth worries abroad and expectations that the Q1 blip isn't going to last. The market certainly hasn't rewarded CAD lately but that could change if oil continues to rise and data continues to beat.
Act
Exp
Prev
GMT
FOMC's Clarida Speaks
Apr 11 13:30
FOMC's Williams Speaks
Apr 11 13:35
FOMC's Bullard Speaks
Apr 11 13:40
FOMC's Bowman Speaks
Apr 11 20:00
Gov Council Member Wilkins Speaks
Apr 11 17:00
Latest IMTs