Intraday Market Thoughts
Central Bankers saw the Boogeyman
A main theme in markets in 2018 has been fear of a trade war but now that heavy China tariffs have been implemented and markets have sailed along, it's increasingly clear that central banks aren't nearly as worried as newspaper headline writers. Eurozone flash CPI for September remained at 2.1% with core CPI slipping to 0.9% y/y. US August core PCE is up next, expected to remain unchanged at 2.0%. Canada July GDP is also due next. A new short in a primary index has been issued.
Click To Enlarge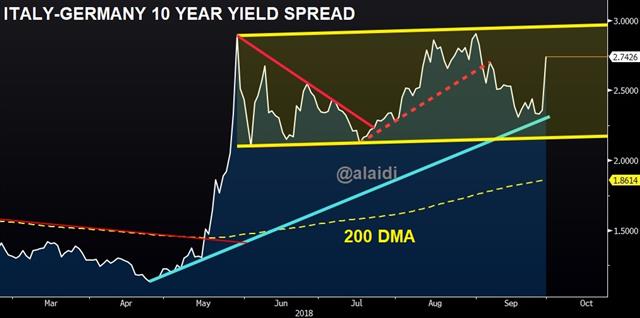 A genuine trade war isn't something developed markets have encountered in at least a generation. The concerns are no-doubt real and the situation is worsening. That said, it hasn't been as bad as feared. The tariff boogeyman has crawled out of the shadows and economic activity hasn't stopped. Increasingly, global central bankers are brushing aside the concerns and committing to gradual rate hike paths despite the risks.That's likely to continue and is a tradeable theme for the remainder of the year. Here's Ashraf''s detailed look at performance of the USD in the past Fed tightening cycles.
BoC-NAFTA Axis
CAD is recovering from NAFTA-related worries after Bank of Canada's Poloz speech was entirely focused on a tightening economy as he
pledged to continue raising rates at a gradual pace
. The
BoC-NAFTA axis
continues to impact CAD with the former imposing a slower but more lasting positive weight on the currency, while the latter has more sudden but short-lived impact. Eventually, markets and central bankers may be hit by a jolt of fear but for now, the mode is to keep calm and carry on with normalization.
As for trade deals, there's no doubt that the odds of a NAFTA deal declined with Trump's comments Wednesday. But how much? Perhaps to 90% from 95%. The next main short-term risk is the release of the text of the deal Friday. That might include another round of public comments from Trump and/or Lighthizer and leave the Canadian dollar to finish the week on a soft note. CAD will shall await Jul GDP and US core PCE data as it awaits along the 1.30 support.
Even with that, the market is comfortable that Congress, corporations, donors and even the public want a deal enough to stop it from eventually happening.
In the UK, the knives are out once again for Theresa May with Boris Johnson criticizing the collective failure of her government. Negotiations in the next six weeks are going to be brutal as she fights off attackers on all sides but GBP has held its ground and that's an encouraging start.
Act
Exp
Prev
GMT
Eurozone CPI Flash Estimate (y/y)
2.1%
2.1%
2.0%
Sep 28 9:00
GDP (m/m)
0.1%
0.0%
Sep 28 12:30
Latest IMTs