Intraday Market Thoughts
Central Banking in a Black Hole
At some point on Friday, the 'Summer Doldrums' will come to an end as Yellen speaks and August nears its end. The waiting game was in fashion Thursday as markets traded in tight ranges and the euro led with the pound lagging. Japanese CPI is due up ahead of Jackson Hole. There are 9 Premium trades currently in progress, 2 metals, 2 indices and 5 in FX ahead of next week's US jobs report.
Click To Enlarge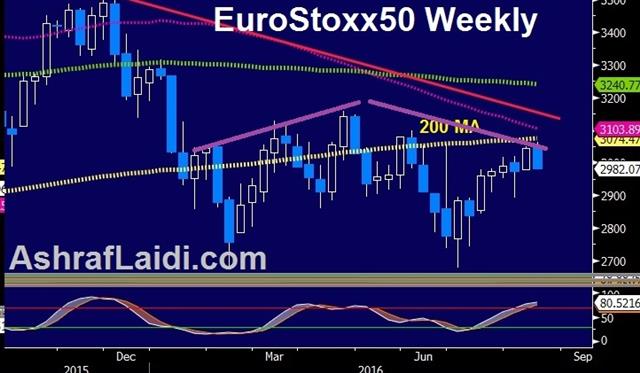 In the small picture, the market moves will centre around signals from Yellen about a hike in September or December. The market is pricing in a 32% chance of a move in Sept and 57% chance in December. That looks high to us but the durable goods report on Thursday added some optimism. In it, the key non-defense ex-air orders metric rose 1.6% compared to the 0.2% consensus.
In the big picture, the noose is tightening around the Fed. On Wednesday it was former Fed governor Warsh ripping into the Fed for a lack of flexibility. Thursday it was Hilsenrath shedding light on the failures of the Fed and mounting criticism.
The criticism is seeming coming from all corners and Yellen is surely feeling the pressure. It's not necessarily hawkish pressure either but frustration at the Fed for failure to forecast correctly and not delivering on its mandate. That's the kind of thing that would make a Fed leader shy about sending signals that could be criticized later. It's also likely to make the Fed deathly afraid of making a misstep.
So while Yellen's words at Jackson Hole will be important, we're closely watch the confidence with which she speaks. A fearful Fed is one that will freeze.
At the same time, we are keenly watching the mounting criticism and how it appears to be gaining momentum. That doesn't have any near term consequences but it has the power to reshape the Fed into a more activist organization.
Ultimately, that probably means more dovish policies. Nowhere is that clearer than Japan where increasingly hopeless programs are deployed. At 2330 GMT we get another look at the results with the July CPI report. The consensus estimate is that prices fell 0.4% y/y.
Act
Exp
Prev
GMT
Fed Chair Yellen Speaks
Aug 26 14:00
Tokyo Core CPI (y/y)
-0.3%
-0.4%
Aug 25 23:30
BoJ Core CPI (y/y)
0.8%
Aug 26 5:00
Latest IMTs