Intraday Market Thoughts
Monetary Policies in Transition
A pair of strong jobs reports on Friday will help to keep the hawkish theme at central banks intact in the week ahead. Last week the Canadian dollar led the way while the yen lagged. CFTC positioning data showed a buy-the-dips trade in vogue. A new charts analysis on silver was issued to Premium subscribers, laying out the technical course ahead for the metal.
Click To Enlarge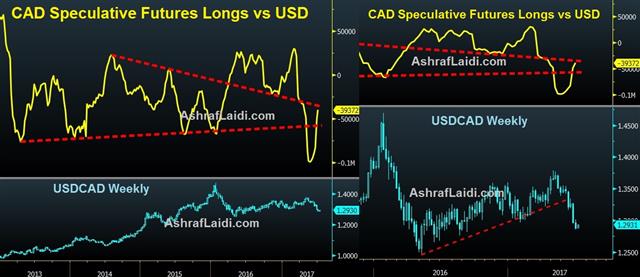 US and Canadian jobs reports on Friday both easily beat expectations in what central bankers will see as confirmation that economic growth is on the right trajectory. It ensures the hawkish theme from June will remain intact in the month ahead.
An exception may be the UK where growth numbers are beginning to stumble. That could be an indication that post-Brexit shifts are beginning to cause a drag and it would force another embarrassing U-turn for Carney. Cable slumped 80 pips on Friday to a seven-day low that also briefly broke the 55-DMA.
Canada outpaced all expectations so far this year and now the Bank of Canada faces the difficult task of communicating exactly what's next. The strong jobs report virtually ensures a hike on Wednesday but the BOC may frame it as solely a plan to remove the 50 bps of 'insurance' rate cuts last year. That may signal a cap on hikes that could also cap the Canadian dollar, especially with inflation in Canada trending down.
The US faces the same conundrum as wage growth disappointed once again despite a strong jobs report. The FOMC has been preaching patience but some Fed members want to see evidence that inflation is rising before hiking again. The CPI report on Friday will be crucial.
Weekend featured comments from the ECB's Villeroy where he explicitly mentioned the Fall as when the ECB will decide on how to move forward with its balance sheet. That's a hint the July 20 meeting will be more wait-and-see than a time to send a clear signal. We've repeatedly heard that the ECB isn't happy with the gains in the euro and yields in the past two weeks.
CFTC Commitments of Traders
Speculative net futures trader positions as of the close on Tuesday. Net short denoted by - long by +.
EUR +77K vs +59K prior GBP -28K vs -39K prior JPY -75K vs -61K prior CHF 0K vs -5K prior CAD -39K vs -49K prior AUD +32K vs +20K prior NZD +29K vs +25K prior
The price action in EUR/USD continues to show traders buying the dips and these latest spec numbers confirm the appetite for euro longs. The market is also increasingly comfortable selling the yen.
Latest IMTs