Intraday Market Thoughts
Charting US & Eurozone Data Misses
More US economic data misses are seeing USD falling across the board. Equities rebounded Thursday but FX was largely unchanged as the CPI-inspired rise in Treasury yields faded.
US retail sales contracted
by more than expected, US
industrial production slowed
by more than anticipated and Univ of Michigan sentiment survey is up next. Ashraf issued
calls to the WhatsApp Broadcast Group
long
EURUSD
near 1.2060s,
US crude
near 64.40s and
XAGUSD
as well as
XAUUSD
. The chart below highlights how
economic surprise index for the Eurozone is exceeding its US counterpart
, while remaining well correlated with EURUSD.
Click To Enlarge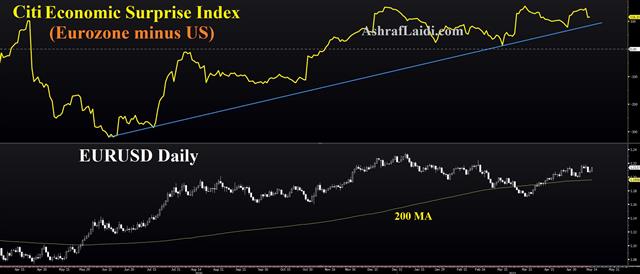 Economic data was a minor factor in trading in Thursday's trade. PPI was up 6.2% compared to 5.8% y/y expected but there was a small 'sell the fact' trade in the dollar afterwards. At the same time, weekly jobless claims also slipped to 473K from 498K as that series continues to improve.
Oil was the mover on the day, falling 3.5% to the lows of the week. The loonie struggled and some light jawboning from BOC governor Macklem may have helped that along.
The surprise on the day was the bond market. There was a soft 30-year Treasury auction but it did little to halt the bid, which has been relentless despite higher inflation. The bond market is most-sensitive to rising inflation risks but isn't screaming in the same way that some commentators are but that could change.
Looking ahead, the consumer comes at 1400 GMT with the UMich consumer sentiment report. It's forecast to tick up to 90.2 from 88.3 but there will also be a focus on inflation expectations. The one-year metric is forecast to climb to 3.5% from 3.4%.
Latest IMTs