Intraday Market Thoughts
China Renews Stock Selling Ban
Chinese authorities arrived to shore up stocks Tuesday after an early slide, we look at their options. The yen was the top performer while the euro lagged. Chinese economic data is due later. The new Video Insights has been posted from Premium subscribers.
Click To Enlarge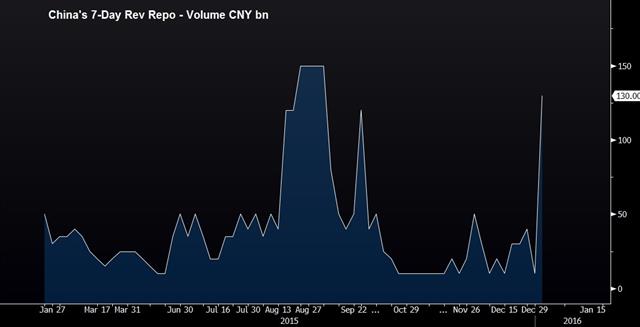 A ban on executive and large shareholder stock sales in China was set to expire on Friday but the latest reports say it will be extended. The PBOC delivered a huge 130B yuan cash injection and there was talk of outright stock buying even though the official policy has been moving away from intervention.
The PBOC doesn't want to seem reactionary with a rate cut so they may simply be looking to stabilize markets for a few days before delivering a rate cut on the weekend or next week. One thing they aren't likely to do is a broad RRR cut recent policy announcements suggest more fined tuned changes in the RRR based on individual banks and sectors rather than across-the-board cuts.
If China can stabilize markets expect the focus to shift to the US economy. The ADP jobs report and FOMC minutes are due Wednesday. Both have their flaws but they start the buildup towards non-farm payrolls on Friday.
Economists have been slashing tracking estimates of Q4 US growth with some now in the +0.5% range. That would leave 2015 annual growth below 2% -- hardly the type of strength to base a series of gradual rate hikes on.
Another spot to watch is USD/CAD. The pair briefly broke 1.40 to a fresh 12-year high on Tuesday. Late in the day, the API announced a large drawdown in crude supplies and if that's reflected in the EIA report, it may underpin crude. However, the inability of oil to hold gains despite the friction in the Middle East is a negative signal.
In the immediate term, the focus shifts back to China. The Caixin services PMI is due at 0145 GMT along with the MNI consumer sentiment index. Neither usually has a market impact but with markets on edge about China, that may not be the case today.
Act
Exp
Prev
GMT
ADP Employment Change (DEC)
217K
Jan 06 13:15
Markit PMI Composite (DEC)
53.5
Jan 06 14:45
Markit Services PMI (DEC)
53.7
Jan 06 14:45
ISM Non-Manufacturing PMI (DEC)
55.9
Jan 06 15:00
PMI (DEC)
51.2
Jan 06 1:45
Eurozone Markit PMI Composite (DEC)
54
Jan 06 9:00
Eurozone Markit Services PMI (DEC)
53.9
Jan 06 9:00
FOMC Minutes
Jan 06 19:00
Latest IMTs