Intraday Market Thoughts
China Trifles, Wheeler Talks Cuts
China and a rarely-heard-from Fed Governor were in the spotlight on Tuesday. The Swiss franc was the top performer on mild risk aversion while the Australian dollar lagged. Up next are the Japanese PPI and Chinese CPI reports. Ashraf's Premium trades closed the GBPNZD short for a 290-pip gain as well as closing the EURUSD long for a 180-pip gain. Premium subscribers will be alerted as soon as these trades are re-opened.
Click To Enlarge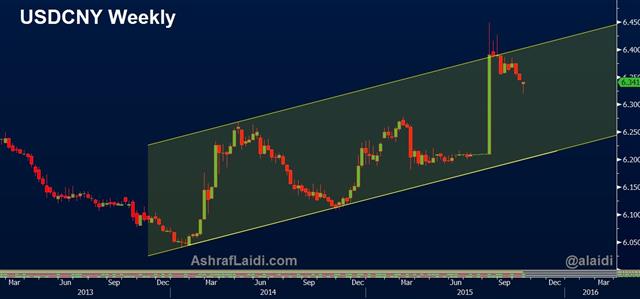 Chinese imports is a metric we've long focused on and it gripped markets on Tuesday because of the eleventh consecutive decline. China imports a great deal of raw materials for its 1.3 billion people but it's also the intermediary stage in the global manufacturing cycle. Raw materials are imported, built into an array of products and then shipped around the globe.
The undeniable softness in imports can't be explained by a slowdown in domestic consumption. After all, the Chinese economy is still growing. It can better be explained by slower infrastructure spending in China and (mostly) a weak global economy.
US economic data was light but comments from a Fed Governor were notable. Tarullo generally focuses on regulation but he spoke to CNBC and said right now it's not appropriate to raise rates. He said we're in a global disinflationary environment and the Fed should be looking for tangible evidence of higher wages. Brainard was similarly cautions and together it suggests the core of the Fed – Yellen, Dudley and the Governors – are more cautious than some of the outspoken regional Presidents.
The news late in the day was from the RBNZ's Wheeler who said that "further easing seems likely" and that sent NZD quickly 50 pips lower. House prices in New Zealand are red-hot but it appears as though policymakers want to use macroprudential tools rather than rates too cool it.
The main event in Asia-Pacific trading is Chinese inflation at 0130 GMT. The consensus for CPI is a 1.8% y/y rise but a 5.9% y/y decline in PPI. Officials are less concerned about inflation and more worried about lending excesses but low readings would give them a green light to lower rates once again.
The other event to watch is Japanese PPI at 2350 GMT. Talk of another round of Japanese QE is probably overdone but a reading below the -0.4% m/m consensus would restoke the fires.
Act
Exp
Prev
GMT
Consumer Prce Index (SEP) (m/m)
0.5%
Oct 14 1:30
Consumer Prce Index (SEP) (y/y)
2%
Oct 14 1:30
Latest IMTs