Intraday Market Thoughts
Dollar Dented, Stocks at New Highs
A long-anticipated US dollar pullback materialized on Monday, sort of. The pound was the top performer while the US dollar lagged. An earthquake near Fukushima sent the yen higher in early Asian trading. Will EURUSD break below 1.05? Is the USD up leg just starting? Will gold break below 1100? All of this and more will be tackled in Tuesday evening's webinar.
Click To Enlarge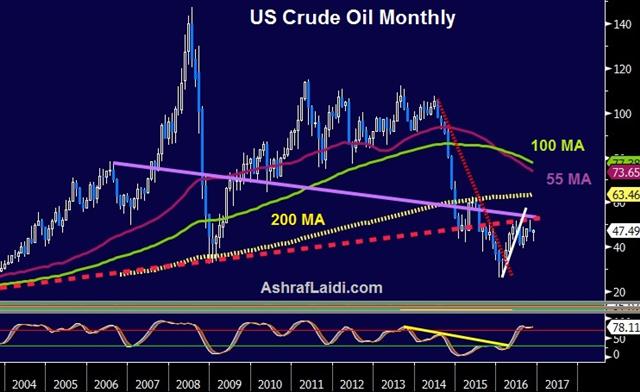 The retracement often says more about the trend than the initial move. On Monday, a pullback finally hit the dollar rally but it quickly floundered in a sign of the extraordinary demand for dollars.
The bid was assisted by a fresh record high in the S&P 500 and a close near the best levels of the day. The combination of a united Congress and Fed on the verge of hiking is proving to be an unstoppable force.
Only two currencies were able to make dents in the dollar; GBP and CAD. The pound rose 150 pips to a six-day high. There weren't any Brexit headlines to drive it. Instead, selling in EUR/GBP and buying in GBP/JPY at technical levels helped out the move.
The Canadian dollar got a helping hand from OPEC as ministers were upbeat following the first of two days of technical meetings in Vienna ahead of the Nov 30 production decision. WTI rose nearly 4%.
Otherwise, the euro climbed 40 pips but through the lens of the recent 600 pip decline, that's virtually nothing.
USD/JPY finished close to unchanged at 111.00 after it tested 110.50. The pair has risen 1000 pips since the election-night low and is showing no signs of stopping. Another brief 50 pip dip hit the pair early in the Tokyo morning after reports of a 7.3 magnitude earthquake. A tsunami warning was issued for Fukushima and that sent a shudder through markets but the 3 meter waves are faint compared to the 13-15m waves in the 2011 disaster.
We also note that Japanese PM Abe met with Trump on Friday. The meeting went long in what's usually a sign of a positive exchange and Abe said he found Trump to be trustworthy. A trade war is less likely by the day and rumored cabinet picks including Mitt Romney set up an administration with a distinctly establishment flavour.
The Asia-Pacific calendar is light today. Events to watch include Japanese department store sales at 0530 GMT and the RBNZ's Bascand at 0630 GMT.
Latest IMTs