Intraday Market Thoughts
Dollar Hit By Washington Grind
A market that rallies on promises is taking a leap of faith, especially political promises. The pound was the top performer Thursday while the US dollar lagged on signs Trump will be slow to deliver. The RBA's Lowe lamented the high AUD in early Asia-Pacific trading.
Click To Enlarge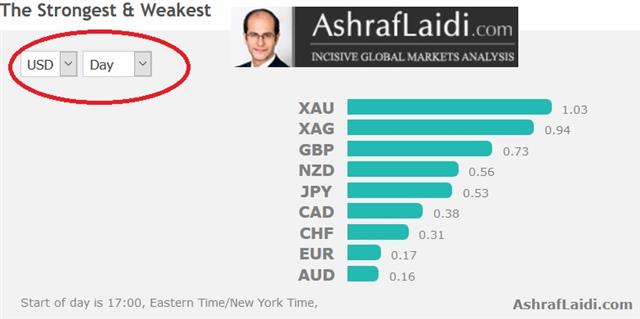 The shortest version of Trump's campaign promises included less regulation, lower taxes, repealing Obamacare and infrastructure stimulus. Naturally there was much more than that but he talked like a man who was used to getting things done and his slowly finding out that Washington moves slower than an arctic construction project in January.
One third of his first hundred days have already been lost without any blueprints for major reforms. Something is coming on taxes early next week but that promises to be an arduous process. An Obamacare replacement will have to come before a budget and the fiscal hawks are circling.
Trump's team evidently looked at a realistic Washington timeline and decided that infrastructure spending will be kicked into 2018. The fringe benefit is that it's anticipated to be less of a fight ahead of the mid-term elections.
The first sign was Kellyanne Conway hinting at an administration playing the long game. That was followed up by Mnuchin lowering expectations for the government to provide stimulus this year. Finally, a report confirmed the suspicions. It said the longer timeline was Plan B but it sounds like the only realistic way forward.
The dollar was the victim as it slid across the board. It was balanced somewhat by less aggressive comments on the dollar by Mnuchin.
The market was unwise to believe Trump's agenda could easily be achieved but the dollar was swept higher in the post-election squeeze. That same squeeze may still be fuelling the stock market as it closed higher Thursday despite a beating in infrastructure-sensitive stocks.
The next question is how badly hobbled will the agenda be? The market may still be too optimistic that any effective action will be taken. The Congressional reception to Tuesday's tax plan may offer a clearer picture.
Turning to Asia-Pacific trading, the Australian dollar rose to a fresh post-election high as USD sagged. The RBA's Lowe said he would like to see AUD lower and said commodity prices are likely to fall but he tempered that by saying that it's hard to argue that AUD is fundamentally overvalued.
The rest of the calendar for Friday Asian trading is light.
Latest IMTs