Intraday Market Thoughts
Draghi's Five Year Itch
Today's s ECB decision will be the five-year anniversary of Draghi's defining speech and it would be a perfect opportunity for him to write a new chapter "Within our mandate, the ECB is ready to do whatever it takes to preserve the euro. And believe me, it will be enough," is what Mario Draghi said on July 26, 2012. A new tactical EUR trade idea will be issued moments before the ECB press conference.
Click To Enlarge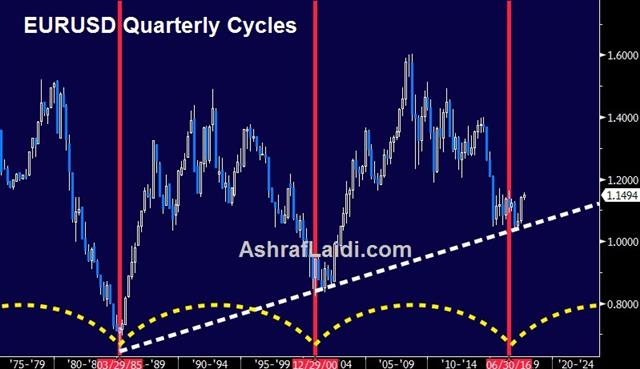 That July 2012 speech marked the bottom of the eurozone crisis and EUR/USD climbed 1100 pips in the next six weeks. It's known as the "whatever it takes" speech and we suggest you read it. Not because of its place in central banking history, but because it's an example of how clearly and directly Mario Draghi can communicate.
"The euro is like a bumblebee," he said, talking about how it looks like it shouldn't be able to fly. He speaks candidly and frankly. Contrast that with 2017 Mario Draghi who painfully avoids saying anything that would indicate higher rates or a higher euro. He has been in a battle against disinflation that's muzzled his eurozone-cheerleading instincts.
But after five years, the questions about the sustainability of the euro have fallen to the backburner. Deflation is no longer a looming. Optimism is in the air.
At Thursday's ECB meeting, the market and virtually every analyst is expecting more of the same from Draghi. More cautious words. More attempts to keep a lid on the euro. Subtle signals. A central bank running scared about the disinflationary damage of a 500-pip euro gain.
What he should do is reach for another metaphor and rip off the band-aid. The wounds in Europe are healed and at some point, sending a message of renewed optimism may be as powerful as holding down the currency.
That's probably more likely to come at the September ECB or at Jackson Hole but it's a risk on Thursday as well. The market is focused on the details of ECB policy but the 'whatever it takes' speech wasn't about details, it was about something much bigger. If (when?) Draghi reaches for that broad brush again, he could paint another masterpiece. Be prepared.
Act
Exp
Prev
GMT
Eurozone ECB Press Conference
Jul 20 12:30
Latest IMTs