Intraday Market Thoughts
EM Heat up, Crypto Speed Down
Many emerging markets are far behind in battles against covid but the market is increasingly looking forward to a time of stronger growth and commodity exports.
Cryptos resume their plunge
amid fresh reports of China's crackdown on suspicious accounts. The US JOLTS report for April showed job openings soared by nearly one million to a new record high. All currencies are down vs the US dollar today, except for CHF. You can
learn how to use this info
(of currency strength/weakess)
in part 0:23 mins of his video
. A
new Premium trade was posted earlier today with 2 charts and 5 supporting points.
Click To Enlarge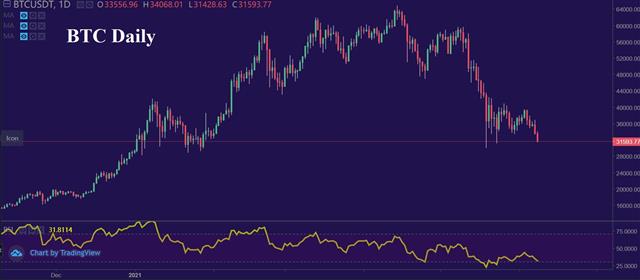 JOLTS rose by 998,000 to 9.3 million, reaching the highest since late 2000, but the data also showed people leaving jobs voluntarily.
Even in the early days of the pandemic, the market showed a remarkable ability to look towards the recovery and that's increasingly the case in emerging markets, which are many months behind developed markets in vaccinations and often without the fiscal capacity of G7 countries.
Looking over the past two months, the Brazilian real is the top performing global currency by a wide margin, followed by the South African rand. Both countries were ravaged by covid but will benefit from high commodity prices in the recovery. Virtually every EM currency is higher against the dollar in the past two months.
If this is the start of the economic cycle, then emerging markets are a great place to be. Ongoing fiscal and monetary stimulus in developed countries will feedback into demand for exports. Domestic economies will also stabilize once the pandemic passes.
Beware though of emerging markets that are large importers. Turkey and India are particularly vulnerable as higher prices could cause dangerous feedback loops and instability.
Markets are now set to prepare for Thursday's release of the US CPI repor, which is the last key data item before this month's FOMC meeting.
Latest IMTs