Intraday Market Thoughts
Euro awaits ECB Test
All eyes turn to today's ECB press conference. Moments ago, the bank renewed its committment to
persistently accommodative monetary policy and reinvest maturing bonds from the PEPP program int end of 2023
. Last month, the ECB fumbled its mandate review and is ensuring it steers market expectations this time round.
US existing home sales and initial jobless claims
are due up next along with the ECB. Yesterday, Ashraf shared
with WhatsApp Broadcast Group Members ways to ride the latest risk-on ascent using bond yields.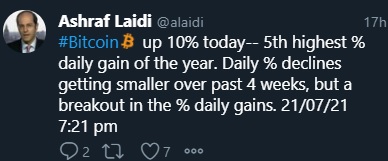 Risk trades continued the recovery on Wednesday in impressive fashion. Early in the day the euro and Australian dollar fell to new lows but turned around as New York arrived and finished at the highs. Treasury yields and equities also climbed with US 10s coming just short of the key short-term level of 1.30%.
A number of charts have shown some nice bounces but whether it's a v-shaped bottom, a bounce or the start of a period of consolidation remains very much up for debate.
US initial jobless claims and existing home sales in the day ahead will offer some evidence but the main event is the ECB decision. After the strategy review, it's unlikely there is any meaningful guidance change but Lagarde is under some pressure to offer dovish clues, particularly with delta cases climbing.
The flipside is that virtually everyone is bearish about the euro and Europe. Vaccinations meanwhile continue to rise and there is undoubtedly some pent up demand waiting to be released. If the ECB 'disappoints' by failing to deliver dovish surprise there will be a series of higher lows stretching back to November. That could be something for the bulls to build on.
Latest IMTs