Intraday Market Thoughts
Euro Goes ECBust
The euro initially rallied as the ECB announced it would cut back bond purchases to 60 billion euros per month but after Draghi spoke the market reversed and the euro tumbled to 1.06. On the day, the Canadian dollar led the way while the euro lagged. Chinese CPI is due later. 2 new trades have been issued in EUR and CAD.
Click To Enlarge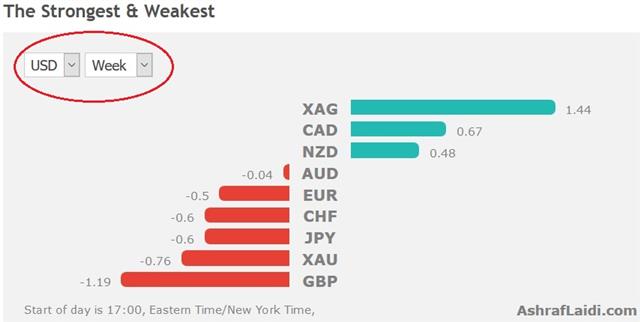 The message from the Draghi was that the ECB would be in the bond market for a long time to come. Initially, the market interpreted the diminished pace of bond buying as a sign the program could end at this time next year but Draghi said cutting purchases to zero was never discussed. EUR/USD fell more than 200 pips as the ECB leader spoke.
The market was left with the message that QE could continue for many months to come and that was likely precisely the message Draghi wanted to send. It puts the ECB on the dovish side of the curve and that would be something easy enough to roll back if inflation ever appeared to be turning a corner.
For the euro, the drop puts it back within the danger zone of the 2015 lows. If those levels hold into the weekend, the market may be inclined to wait until the Fed before trying for a break.
What was interesting in the bigger picture was the divergence with bonds. Eurozone yields moved up across the board, especially in the periphery. That's sending the opposite of a dovish signal. That may simply reflect bondholders who had waited to sell but it will be a critical divergence to watch in the day ahead.
Other economic news showed initial jobless claims at 258K compared to 257K expected. The Canadian dollar got a boost from an 8.7% jump in October building permits compared to -0.7% expected.
Looking ahead, Chinese CPI is due at 0130 GMT. With the market so focused on Trump and central banks, China almost seems like an afterthought but it could easily topple the delicate positive sentiment in markets. CPI inflation has been tracking higher and is forecast up 2.2% y/y compared to 2.1% y/y in Sept. Even a higher reading is likely to be ignore, at least for now.
Act
Exp
Prev
GMT
Consumer Prce Index (y/y)
2.2%
2.1%
Dec 09 1:30
Latest IMTs