Intraday Market Thoughts
Euro Jumps as Macron, LePen Advance
One thing we haven't heard often in the past year was "the polls were right" but that was exactly what unfolded on Sunday in France as Macron and Le Pen won the first round of the election. The euro opened nearly 200 pips higher at the open with yen tumbling. CFTC positioning data showed few GBP shorts getting cleared out despite last week's jump. The Premium EURAUD long was closed for 240-pip gain, EURUSD long remains 205 pips in the green and EURJPY was stopped out at 190-pip loss.
Click To Enlarge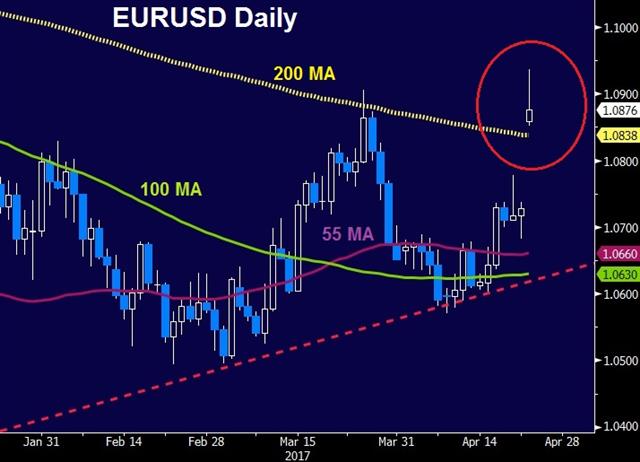 The final tally isn't yet in but Macron and Le Pen will be in the final round of the Presidential election on May 7. The final results show Macron at 23.8% and Le Pen at 21.6% as of 0:56 am France Time at 95.6% participation. As the earliest numbers rolled in, Fillion conceded and threw his support behind Macron. There had been a slight chance he would stay mum or support Le Pen. Other candidates also endorsed Macron for the final round.
This result was as much a win for pollsters as for Macron. Despite many surveys showing him and Le Pen ahead, the market was cautious after Brexit and Trump. The same pollsters show Macron with a 20-point lead in the final round.
We warned last week that fears in the market were overstating a black swan scenario and the jump in the euro at the open underscored that. It climbed to as high as 1.0937 – a jump of more than 200 pips. EUR/JPY climbed nearly 400 pips.
Expect to see profit taking in fairly short order. Those moves are too big and the same types of fears may start to infect the second round. We will be watching the European open very closely for another surge of volatility. Also note that a finish above 1.0864 would be the best since November.
Commitments of Traders
Speculative net futures trader positions as of the close on Tuesday. Net short denoted by - long by +.
EUR -22K vs -19K prior JPY -30K vs -35K prior GBP -99K vs -106K prior CHF -14K vs -10K prior AUD +43K vs +45K prior CAD -33K vs -32K prior NZD -15K vs -15K prior
The squeeze after Theresa May called the election certainly caught a few people on the wrong side but it wasn't a full-scale rush to the exits.
Latest IMTs