Intraday Market Thoughts
Fed May Edge Off Sidelines
Markets resume their broad rebound, powered by strong Apple earnings even as the number of Corona Vorus cases in China exceeds that of SARS in 2002. Bear in mind that firms in the Hubei area are prevented from resuming work until Feb 13 at the earliest, which could further impact the national and global supply chain. As we move today's Fed decision, market is currently pricing in a 28% chance of a cut in June, rising to 77% in September. US interest rates haven't moved much in the past decade but the Fed has struggled most in one scenario: Doing nothing. Policymakers are clearly and explicitly on the sidelines heading into Wednesday's decision but if their past habit is any indication, then staying there will prove to be tough. Meanwhile, in US politics, Bernie Sanders regains the lead among his Democrat peers.
Click To Enlarge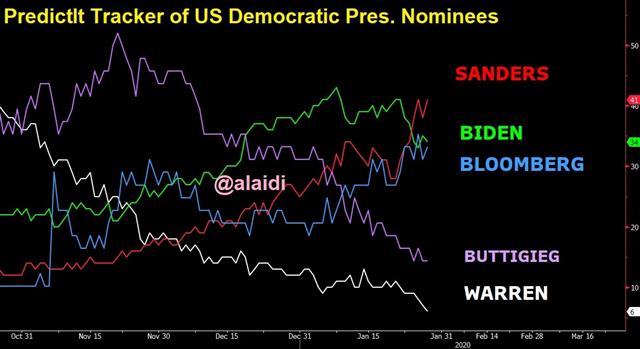 The USD is up against all major currencies, but lower vs gold and silver. NZD and CHF are the weakest.
Hard vs Soft Data
Tuesday's US data gave the Fed few things to think about:
Consumer confidence
and the Richmond Fed both beat estimates in a positive sign for growth but core
durable goods orders
in December were the weakest since April in a sign that businesses remain reluctant to invest.
On net, the forward-looking numbers are good but they're also the more-volatile set and the Fed outlook depends on better business investment in 2020 with 'uncertainty' from the trade war diminished. The problem is that coronavirus has already replaced, if not surpassed, that uncertainty.
With China's economy at a virtual halt for at least the next week, the risks to global growth this year have clearly shifted to the downside. That presents the Fed with a difficult decision. If Powell takes a step off the sidelines, then the market may rush into pricing in rate cuts and that could put the Fed in an uncomfortable position.
The market is currently pricing in a 28% chance of a cut in June, rising to 77% in September. The timing of this meeting is especially tough with the next one not scheduled until March 18. In the interim, the coronavirus scare will either result in a full-blown pandemic risking a global recession or fizzle.
If the Fed does edge off the sidelines, it will once again reinforce that they have a hair-trigger to ease at the sign of any distress. That will be comforting to equities and keep the bid in bonds. The decision is at 1900 GMT with a press conference 30 minutes later. No new forecasts are due.
Act
Exp
Prev
GMT
Core Durable Goods Orders (m/m)
-0.1%
0.4%
-0.1%
Jan 28 13:30
FOMC Statement
Jan 29 19:00
FOMC Press Conference
Jan 29 19:30
CB Consumer Confidence
131.6
128.2
128.2
Jan 28 15:00
Latest IMTs