Intraday Market Thoughts
Fed Playing with Fire, PCE next
The Fed stoked the rate hike fires at Jackson Hole while Kuroda hinted the BOJ had easing ammunition. The US dollar was the top performer last week while the Swiss franc lagged. CFTC positioning data showed euro shorts falling out of fashion. Monday is a holiday in the UK, but the all important core PCE price index from the US is due at 12:30 PM GMT, 13:30 BST. So far today. GBP is the weakest currency, followed by the JPY and the NZD is the strongest.
Click To Enlarge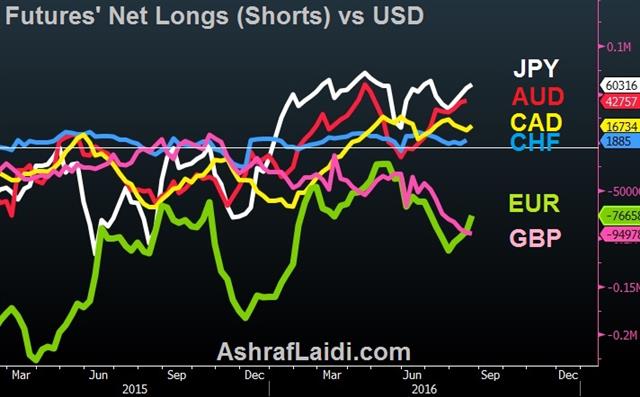 The implied probability of a Fed hike on September 26 rose to 42% at the start of the week from 22% on Aug 19. That's primarily after Yellen said the case for hiking on that date "had strengthened" and hawkish comments from other Fed members.
The universal caveat remains data dependence and an insistence that upcoming numbers continue to improve. Ultimately, it's tough to believe the Fed won't back down or disappoint. It's even surprising that they're willing to flirt with a hike once again after getting burned so many times before. Revisions to Q2 GDP showed growth was at a pace of just under 1% for the first half of the year and the Fed is increasingly a political punching bag with the election 10 weeks away.
Otherwise at Jackson Hole it was Kuroda who stole headlines saying there is "ample space" for more asset buying, an expansion in the monetary base and negative rates.
In early trading, the market reaction has been mild USD/JPY buying but that may also be a reflection of the economic calendar. London is close to start the week and the Asia-Pacific calendar is very light.
CFTC Commitments of Traders
Forex speculative futures positioning. + denotes net long; - denotes net short.
EUR -77K vs -93K prior GBP -95K vs -94K prior JPY +60K vs +56K prior CHF +1.8K vs +1.5K prior CAD +17K vs +12K prior AUD +43K vs +41K prior NZD -0.9K vs -0.7K prior
Latest IMTs