Intraday Market Thoughts
From EM Back to Trade
On Friday, the theme was all about the pain in emerging markets. But as the US dollar extended its decline late Friday and the Chinese yuan dragged down USDCNY further away from 7.0, things changed quickly (see the USDCNY chart below and draw your own conclusion). Reports of a bilateral deal between the US Mexico to revamp the North American Free Trade Agreement, propelled CAD across the board and dragged USDCAD below 1.2960. I will discuss more NAFTA later tonight. The Premium service has closed the short USDCHF trade for 180 pips and a detailed note was sent to subscribers.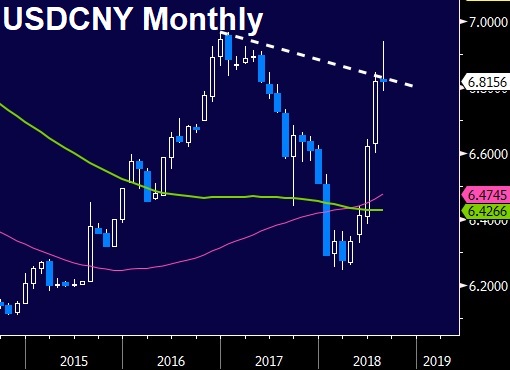 If you were to have a look around markets outside of currencies last, it might have looked quiet day with stock, bonds and oil little changed. Yet in FX, the dollar was massively bid until a retracement on Friday.
The answer was emerging markets. Trump tweeted negatively about South Africa late Wednesday in the day and that led to a 1.7% fall in the rand. The selling spread elsewhere including Brazil where political uncertainty continues to weigh. The EM sales were clearly going into dollars with the same flows also helping to cushion the fall in the euro.
It's a theme that has been unfolding throughout the month. Despite some recent stability, the Turkish lira remains down 18% on the month. Currencies from Russia, Brazil, Argentina and South Africa are all down 7-10% well with many others struggling. Surely several currencies with USD-pegs are under tremendous pressure behind the scenes.
So while the political drama around Trump and Brexit dominates headlines, and the S&P 500 hits records, there are genuine problems below the surface. It's a time to be cautious especially with trade risks highly elevated.
The Fed is in a tough spot as most signs remain positive in the domestic economy. Powell spoke on Friday and took a broad look at how inflation has disappointed for years and what the central bank should do about it. He continued to advocate for gradual easing and that was a theme among other Fed members as well. That raises the odds of a December hike but the more-meaningful shift from Powell was a hint that inflation dynamics only justify a rise to neutral and then it may be time to wait-and-see. That led to some initial selling in the dollar Friday and will be a theme to watch. Key US inflation data are due Thursday.
CFTC Commitments of Traders
Speculative net futures trader positions as of the close on Tuesday. Net short denoted by - long by +.
EUR -5K vs +2K prior GBP -72K vs -61K prior JPY -47K vs -58K prior CHF -47K vs -46K prior CAD -27K vs -26K prior AUD -50K vs -51K prior NZD -25K vs -27K prior
Pound net shorts are now the most-extreme since May 2017.
Latest IMTs