Intraday Market Thoughts
GBP Damaged, Stocks Pause
GBP selling turns to a rout on Bloomberg reports that PM Theresa May is preparing for plan next month for a no-deal Brexit, damaging all GBP pairs and lifting EURGBP above 0.90. The DOW30 short was stopped out, while the remaining index short re-enters the green.
Click To Enlarge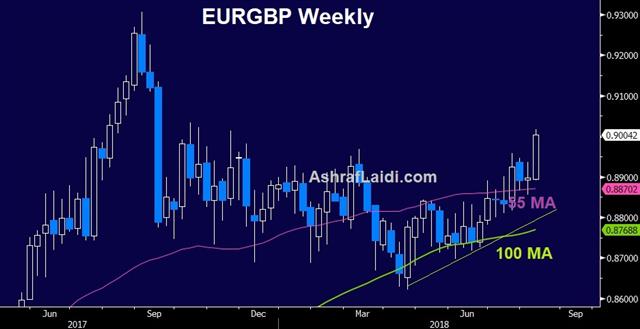 It's also the time of year when flows are especially important and that was the case of the Canadian dollar, which sank a full cent on no news that Saudi Arabia was selling Canadian equities on Otawa's criticism of the Kingdom's arrest of a female activist. CAD hopes turn to Friday's Canada jobs report.
Later Tuesday, the US finalized $16 billion in fresh tariffs against China. The main fundamental worry on everyone's mind is a continued escalation. Reports say Trump made a pitch to tech executives about the virtues of tariffs. That's a hint that he's determined to raise the stakes.
On the topic of escalation, US financial and trade sanctions hit Iran Tuesday with oil sanction set for November. Europe continues to try to find a way to keep the deal intact but companies are spooked by the threat of US action if they trade with Iran. A possible next shoe to drop could be some kind of escalation by Iran via blocking shipping routes or restarting nuclear development. Local unrest continues to grow.
Looking east, Japan is suddenly full of intrigue. Reuters reported Monday that BOJ officials had floated the idea of two rate hikes this year. Data on Tuesday also showed the biggest jump in wages since 1997. That was mainly driven by bonuses and overtime quirks but the underlying numbers were still strong.
Focus turns to Wednesday's US 10-year note sale. It's the first sale under the latest, higher auction sizes and it comes with 10-year yields just below 3%. Whether or not it sells above that psychological level is likely to drive the dollar.
Latest IMTs