Intraday Market Thoughts
Germany Steps Forward, US Steps Back
The German SPD voted to enter coalition talks with Merkel's Christian Democrats, helping lift the euro in early-week trading. The US dollar, meanwhile, is under pressure after Republicans and Democrats failed to avert a government shutdown. CFTC positioning data showed euro longs easing from their record high.
Click To Enlarge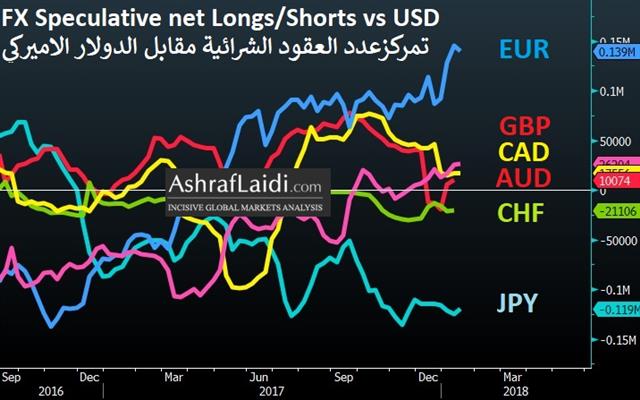 The euro gapped +50 pips higher to 1.2270s at the weekly open as Merkel aims to end the uncertainty in German politics. There is no guarantee of a deal but the SPD delegates voted 362-279 to enter final discussions after a preliminary deal in December.
The news isn't a big surprise and shouldn't be a lasting factor but it's yet-another dose of good news for the euro.
It's just the opposite in the US where Congress delivered a self-inflicted wound in the form of the first government shutdown since 2013. The US dollar is softer across the board early but expect the market to take it in stride. The previous shutdown lasted 16 days and markets shrugged off the effects.
CFTC Commitments of Traders
Speculative net futures trader positions as of the close on Tuesday. Net short denoted by - long by +.
EUR +139K vs +145K prior GBP +26K vs +26K prior JPY -119K vs -126K prior CAD +18K vs +17K prior CHF -21K vs -22K prior AUD +10K vs -5K prior NZD -8K vs -11K prior
The market is reluctant to embrace cable longs. Despite the impressive run lately, the looming risk of negative Brexit headlines is ever-present. Euro longs edged back from record extremes but overall moves were small.
Latest IMTs