Intraday Market Thoughts
Gilt-Bund Spread & GBP Newsflow
GBP traders continue selling rallies as the bad news see no end. Britain's merchandise trade deficit soared to £12.5bn in June, the highest since March 2015 as rising imports grew twice as much as exports. The widening deficit will play a role in dragging down Q2 GDP to contraction territory. The UK's National Institute of Economic and Social Research said UK GDP contracted by 0.2% in July, dragging GDP to 0.3% in the three months ending in July, compared with 0.6% in Q2. The July estimate is the first full month's figure after the Brexit vote. The NIESR sees a 50% chance of a recession by the end of 2017, while warning that its monthly data are volatile and there should not be too much emphasis on developments of a single month.
Click To Enlarge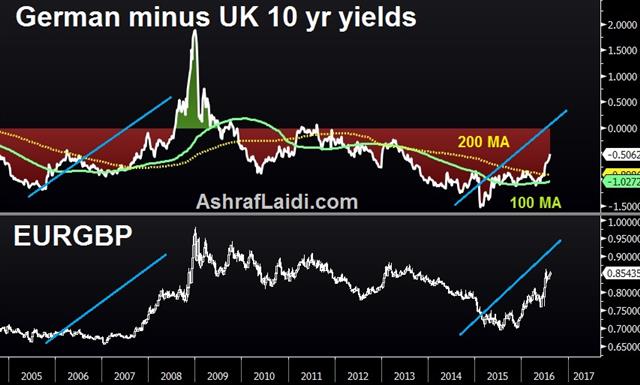 The pound's selloff began early Tuesday when Bank of England policy maker Ian McCafferty –known for his hawkishness—told The Times newspaper that further interest rate cuts and QE may be required. Notably, McCafferty voted for a 25-bp rate hike as early as January. For a policy maker to make such a change underlines the ongoing deterioration in GBP sentiment, from macro and market metric perspectives.
Falling gilt yields can be seen via the prism of yield differentials, which remain a big force in weighing on the currency. The above charts illustrate that 10-year gilt yield advantage over bund yields is at its worst level in over 3-years, highlighting the positive correlation between the German-UK spread and EURGBP cross rate. Expectations of further BoE easing could send the gilt-bund spread to positive for the first time in 5 years. Our Premium trades currently have 1 trade in GBP and one in EUR.
Latest IMTs