Intraday Market Thoughts
Greek Deal Nears, Dollar Bets Trimmed
It's the make-or-break moment in Greek negotiations as the highest government leaders prepare to meet in Athens. The euro is only fractionally higher to start the week despite the positive weekend signals. CFTC positioning data showed dollar longs heading for the exits. The Premium EURUSD long at 1.1110 on June 5 hit its final 1.1410 target last week. EURCAD and AUDNZD trades remain in progress and in the green, while EURAUD is in breakeven. Each trade is accompanied by trechnical charts and fundamental rationale.
It's all about Greece at the moment. Optimism is building but we've seen good news turn into disaster many times in the saga. Euro traders are skeptical with EUR/USD up just 10 pips at 1.1361 to start the week.
It seems clear that the tone has changed in negotiations and hat will likely underpin the euro in the hours ahead. Top-level meetings aren't until late Monday so there will be no quick answers.
Extensive talks took place over the weekend and messages were generally positive. Perhaps most revealing was how quiet negotiations took place. Leaders are no longer spewing rhetoric and rushing to the press to spin the message and win political points.
It's often forgotten that Tsipras is fighting a two-front war if he wants to make a deal. Members of his own party will abandon him if he compromises too deeply. But cabinet meetings were held Sunday and Greek finance minister Varoufakis was asked if he's confident of a deal by reporters. "Always," he said. "We're heading for a deal."
Other weekend news was light and the Asia-Pacific schedule is bare. One event to watch comes at 0630 GMT when the ECB's Coeure speaks in Paris.
Commitments of Traders
Speculative net futures trader positions as of the close on Tuesday. Net short denoted by - long by +. EUR -89K vs -138K prior JPY -80K vs -116K prior GBP -25K vs -28K prior AUD -4K vs -14K prior CAD -12K vs -14K prior CHF +5K vs +10K prior
Note that this was before the FOMC so positions were probably trimmed further afterwards. The squeeze in euro shorts helps to explain some of the recent strength.
The other thing that stands out is cable shorts. That was an absolutely wretched trade with GBP/USD up in 9 of the past 10 sessions.
Click To Enlarge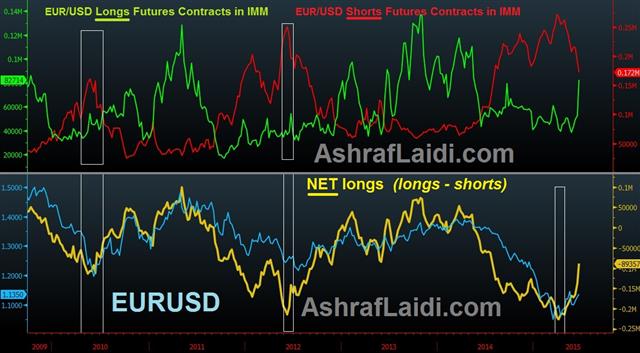 Latest IMTs