Intraday Market Thoughts
Indices & Oil Crossroads, Euro One Direction
Euro and sterling are neck-and-neck on the ascent after the European Central Bank stuck to the same amount under the pandemic bond purchase program. US jobless fell to 1.3 million, a new 3-month low. US bank earnnings were mixed, with Bank of America down afer falling profits, while Morgan Stanley rose on record-breaking revenue and earnings. Ashraf is watching oil as it scrapes the top of the March 9th gap, a close above 41.50/60 would help trigger the next leg down in USD. All major US indices are down, led by NASDAQ -1.6% as Twitter slumped after the hacking of the accounts of some prominent public. Today's Premium trade released after the ECB is +20 pips in the green, but +50 pips for members of the WhatsApp Broadcast Group who were alerted ahead of the issuance of the trade.
Click To Enlarge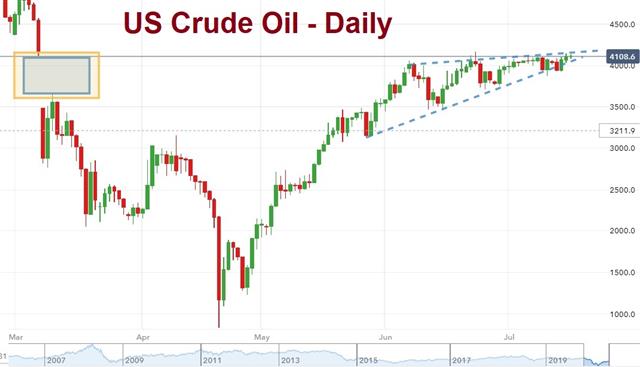 The Bank of Canada introduced a dovish style of forward guidance on Wednesday, but the currency market cheered it. CAD is now mixed today against the FX pack. The BoC delivered a mild surprise with a commiton ment to "hold the policy interest rate at the effective lower bound until economic slack is absorbed so that the 2 percent inflation target is sustainably achieved." Macklem made it clear that wouldn't be until the output gap was closed, which won't be until 2022 at the earliest.
It's early in the post-COVID world but don't rule out a change in the reaction function of markets. Rate differentials are a dead trade for now with everything in developed markets pinned to the lower bound; so the investing playbook is about certainty and growth-positive policies.
Latest IMTs