Intraday Market Thoughts
Inflation Fuels USD Bounce
The US dollar rebounded on Thursday after higher inflation numbers and the best initial jobless claims report since 1973. The commodity currencies were the best performers while the euro lagged. The Asia-Pacific calendar featured a higher than expected New Zealand CPI and a speech from Kuroda is due later.
Click To Enlarge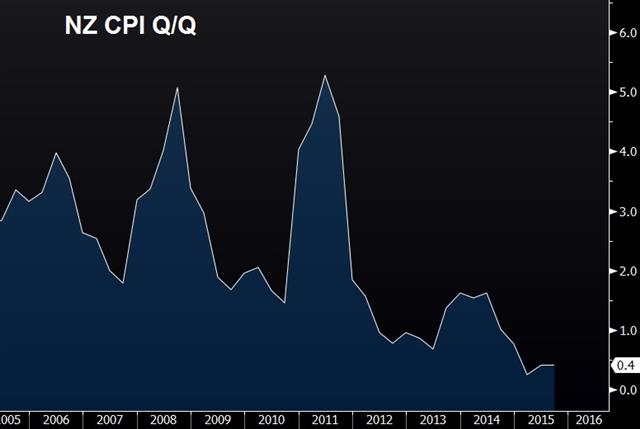 Yesterday we warned of the potential for USD/JPY declines on a break below the September lows. The gave way early in the day and the pair continued to 118.05 as it looked to be breaking out of a seven-week consolidation pattern.
But the US dollar came back to life like a horror-movie villain and the pair recovered to unchanged on the day at 118.85. It was aided by the CPI report and initial jobless claims. Core inflation rose 1.9% y/y compared to 1.8% with similar-sized beats in other metrics. Claims fell to 255K compared to 270K expected, a more than 40 year low. They were balanced somewhat by a soft Empire Fed but the flip was clearly switched on the US dollar as it climbed across the board.
New Zealand Q3 CPI came out at 0.3% q/q vs exp 0.2% q/q and 0.4% y/y vs exp 0.3% y/y, while the prior 0.3% was revised to 0.4%. Inflation data is only released every three months so it's an especially impactful report. The kiwi has been on a tear over the past two weeks. The consensus was for just a 0.3% y/y rise in prices so today's figure hits at Wheeler's rate cut hints earlier this week. It's a tough report for economists to estimate because three competing factors have had a big impact on the CPI compared to this time last year. Oil/commodities have dropped, the kiwi is much softer and house prices have jumped.
The other event to watch is a speech from BOJ leader Kuroda at 0635 GMT. This is likely to be his last appearance before the Oct 30 central bank decision. If anything, he will use it to stifle talk of more QE and that may further weigh on USD/JPY.
Act
Exp
Prev
GMT
Consumer Price Index (Q3) (q/q)
0.3%
0.2%
0.4%
Oct 15 21:45
Consumer Price Index (Q3) (y/y)
0.4%
0.3%
0.3%
Oct 15 21:45
Eurozone CPI (SEP) (m/m)
0.2%
0.0%
Oct 16 9:00
Eurozone CPI (SEP) (y/y)
-0.1%
-0.1%
Oct 16 9:00
Eurozone CPI - Core (SEP) (y/y)
0.9%
0.9%
Oct 16 9:00
Continuing Jobless Claims (OCT 2)
2.158M
2.195M
2.208M
Oct 15 12:30
Initial Jobless Claims (OCT 9)
255K
270K
262K
Oct 15 12:30
Latest IMTs