Intraday Market Thoughts
Inside the Dow Theory
Stock indices around the world have had an impressive showing over the past five weeks, hitting new record highs or erasing all of the losses recorded earlier in the year. Most technical indicators suggest futher gains to come in the New Year. But one indicator raises doubt over the advances of the Dow Jones Industrials Index. It is the "Dow Theory".
Click To Enlarge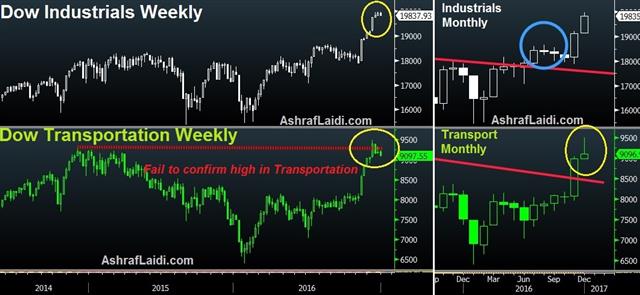 Besides the better known Dow Jones Industrials Index, which consists of 30 companies, the less familiar Dow Jones Transportation Index consists of 20 companies, mostly related with transportation, rail, shipping and cargo companies. The divergence between the Dow Transportation Index and the Dow Industrials Index continues to deepen. The Transportation index failed to continue closing at new highs at a time when the Industrials index has closed at new record highs for 6 consecutive weeks. Not only has the Transportation index stalled, but began to drop lower, while the business media is busy focusing on when will the Industrials hit the purely symbolic 20,000 landmark.
The Dow Theory states that new highs (or lows) in the Dow Industrials, or Transportation index, must be confirmed by new highs (or lows) in the other. Failure to do so could imply that the highs (lows) attained in one index are unlikely to follow. The logic behind the Dow Theory holds that the Transportation index contains companies which reflect the economic pulse of the United States and any widening gulf between the two indices suggests that the moves in one index not an accurate or complete reflection of the economic/business cycle.
There are 2 other technical indicators we have found that give further support to the doubts raised by the Dow Theory. These are highlighted in 1 of the 2 trades to Premium members, posted yesterday.
Latest IMTs