Intraday Market Thoughts
Intermarket & Sector-Driven Trades
As bearish voices intensified during Asia and the early Thursday morning US session, Head-&-Shoulder enthusiasts flexed their muscle regarding the major US and European indices… until the indices snapped right back. We mentioned on Tuesday to our VIP subscribers via WhatsApp Broadcast Group (See snapshots below) that DOW30 would extend losses from 23700s to 23000, at which time would be a decent buying opportunity for short-term traders. It is one thing to give an idea….another thing is to back it up with facts. The charts below combine the intermarket view alongside equity rotation, metals' technical analysis to make the case for short-term bounce in risk (indices). A new Premium Insights' Trade was issued earlier today.
Click To Enlarge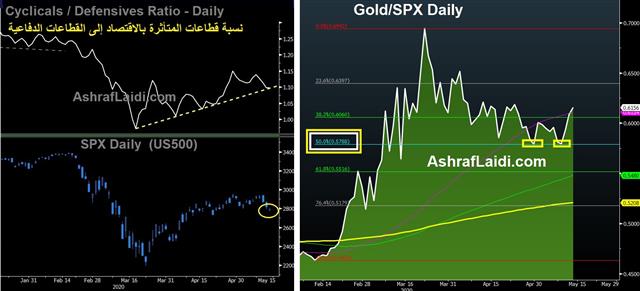 The first chart highlights the ongoing uptrend in the Cyclicals/Defensives sector ratio, which not only bottomed 3 days before the SPX, but continued to rest on a perfect trendline support since. Candelsticks analysis enthusiast have the potential daily doji on dailies as well as persistent horizontal base support.
Click To Enlarge
Finally, the chart on the right-hand side answers the question "Why is gold is not falling as stocks selloff like it did this year?". As the Gold/SPX charts rebounds off key support, it highlights further gold outperformance relative to indices, which is only a sign of improved risk appetite (as well as increase probabilities of zero rates in the US). This was useful about 3 hours earlier when the rebound in gold and silver during indices' selloff suggested the selling was not at all part of a panic that forced gold holders to sell their winners, but a harmless pullback/readjustment in stocks. For the bigger picture, being selectively long indices (sectors) is a long-term proposition worth your while.
And don't forget Friday's Premium Trade in silver. Today, XAGUSD further broke away from its 55-DMA (like it does every 5-6 months for the past 3 years -- before accumulating further run-up).
That's what we call actionable Intermarket Analysis.
Latest IMTs