Intraday Market Thoughts
Is Tax Reform Priced in?
The US dollar struggled to maintain momentum on the heels of the tax announcement as opposition begins to materialize. NZD was the top performer while USD lagged. Japanese CPI is due later. Friday's US core PCE will be key. 5 new charts have been posted to subscribers backing the ongoing DAX30 trade. The chart below is one them.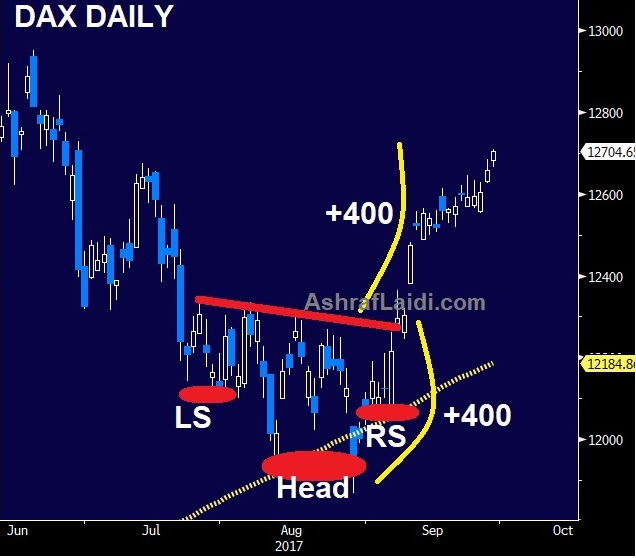 The greenback has been beaten down for most of the year and finally looks poised for a rebound but the market isn't delivering. The tax proposal gave the dollar a lift Wednesday and sparked a sharp selloff in Treasuries but the momentum faded today.
That was despite a revision higher in Q2 GDP to 3.1% from 3.0%, a small-than-expected good trade deficit and wholesale inventories for August up 1.0% compared to a 0.4% decline expected.
That's all good news but the USD dollar fell around a half-cent across the board. USD/JPY slowly slid to 112.24 from as high as 113.20 in Asian trading. Both EUR/USD and USD/JPY formed minor two-day double bottoms before the turnarounds.
9 months of disappointment for USD bulls is hard to shake off. Friday's critical PCE report will be a major factor in upcoming Fed communication and should be a major dollar story.
The bigger story, however, has to be taxes. The numbers and rates that the administration is floating would be a major dose of stimulus.
The big question regarding tax reform is: What's priced in? Given the healthcare struggles, you would expect some skepticism in the markets but the failure on that front could also help bring Republicans to some sort of compromise.
Perhaps no one wants to bet on Congress and risk another brutal disappointment. We also have to consider the alternative: That a tax cut has already been priced in. Maybe now the market is having doubts because there are so many barriers to a deal, especially with much of the savings going to corporations and high-income earners.
It's tough to believe it's priced in but it's also tough to understand how the dollar can continue to struggle. Perhaps month end flows are skewing the signals. We will watch closely in the week ahead.
In the meantime, Japan is out with a pair of key reports to close the week. Both CPI and employment data are due at 2330 GMT. Even with a rise in CPI to 0.6% (as expected) we struggle to see a shift from the BOJ any time soon.
Act
Exp
Prev
GMT
Final GDP (q/q) [F]
3.1%
3.0%
3.0%
Sep 28 12:30
Latest IMTs