Intraday Market Thoughts
Lost in the Political Turmoil
GBP rallies across the board on news that Britain and the EU have agreed on terms for a 21-month transition period after Brexit, which provides more clarity for businesses in the 2 years ahead. Both of the Premium CADJPY short and GBPAUD long hit their final targets for 200 pips and 290 pips respectively.
Click To Enlarge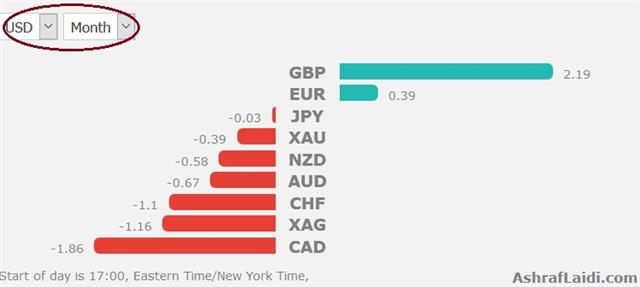 The temptation in all the screaming headlines about Trump, Russia, Brexit, Spies and North Korea is to tune out but one headline has been ignored by the market. The yen was the top performer last week while the Canadian dollar lagged. CFTC positioning data showed euro longs near a record.
Separating truth from rhetoric in the Trump era has been nearly impossible but actions speak far more loudly than words. Once in a while, they align, like when it comes to Iran.
In his first year, he supported the Saudi royal shuffle and the blockade of Qatar while also staying out of the bizarre disappearance of Lebanon's leader. His latest move to replace Secretary of State Rex Tillerson with Mike Pompeo – a noted Iran hawk is another move towards confrontation. He has repeatedly criticized the Iran nuclear deal and his next move may be to appoint uber Iran hawk John Bolton as national security advisor.
On the weekend, Republican Senator Bob Corker predicted Trump would pull out of the Iran nuclear deal on a May 12 deadline.
War would spark an incredible squeeze in oil markets but any fresh sanctions would also put a damper on Iran's 3.8 mbpd of crude production and send crude meaningfully higher. Previous sanctions trimmed output to 3.0-3.4 mbpd. That's not a massive drop off but last time there was little genuine fear of open conflict.
On Friday, oil jumped late in the day on a purely technical move as it broke out of a wedge formation. Could the technicals be telling us something?
CFTC Commitments of Traders
Speculative net futures trader positions as of the close on Tuesday. Net short denoted by - long by +.
EUR +146K vs +133K prior GBP +8K vs +5K prior JPY -80K vs -87K prior CAD +19K vs +20K prior CHF -7K vs -8K prior AUD -1K vs +3K prior NZD -3K vs -0.5K prior
The net euro long is now just shy of the record set earlier this year. The steady shift over the past few weeks has been the paring of yen shorts as yen crosses (especially USD/JPY) near medium-term lows. In particular, note that CAD/JPY struggled once again last week and on Friday was testing the 2017 low.
Act
Exp
Prev
GMT
FOMC's Bostic Speaks
Mar 19 13:40
RBA Assist Gov Bullock Speaks
Mar 20 4:15
Latest IMTs