Intraday Market Thoughts
Merkel off, Bolsonaro on, Italy Downgrade off
News that German Chancellor Angela Merkel announced stepping down from her post as leader of the Conservative Party has has come as no surprise to the markets, given her party's dismal performance at the local elections. Markets broadened into risk on after right-wing candidate Bolsonaro was won the presidency. S&P lowered Italy's outlook to negative but maintained its BBB rating on Friday in a relief for battered Italian markets. CFTC positioning data showed a narrower yen short position, while gold speculators entered their 2nd weekly consecutive weekly net long position. In light of the end of day-light saving time in Europe over the weekend, the time difference between the East Cost of the US (EST) and London/UK drops back to 4 hours throughout this week, until the difference reverts to 5 hours next week.
Click To Enlarge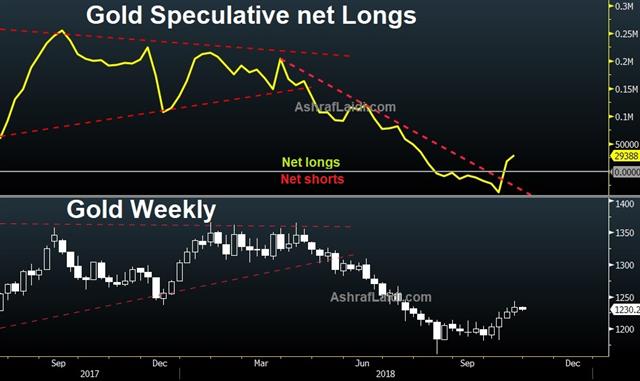 There was some fear S&P could downgrade Italy because of the relentless budget drama but they were spared. They are certainly not out of the woods with the political drama set to continue for weeks.
Fitch also affirmed the UK at AA but lowered its outlook to negative as a result of mounting Brexit risks.
None of the ratings moves prompted lasting moves in the FX market. The Brazilian real is slightly stronger to start the week after right-wing candidate Jair Bolsonaro was elected in a vote near 55%-45%; largely in-line with the polls. His initial comments suggested an austerity program. Brazil's Bovespa stock index is up 14% from September lows, wile most Emerging Market indices are down 7% over the same period.
Equity markets and risk aversion continue to dominate. US equities attempted a comeback on Friday after a soft open but the bounce ultimately faded and the S&P 500 fell 47 points.
On Friday, US GDP rose 3.5% compared to 3.3% expected in part due to the strongest personal consumption since 2014. The other part was the largest inventory accumulation in over 2 years. A major drag was net exports, which trimmed 1.78 points from growth. That's a story that will remain in the focus this week with trade balance data due on Friday. There's been a clear deterioration this year that's reasserted itself in the latest numbers; a further decline would raise fresh questions about the damage from the trade war.
US data kicked off the week with an unchanged reading in September core PCE at 2.0% y/y (Fed's inflation gauge)
CFTC Commitments of Traders
Speculative net futures trader positions as of the close on Tuesday. Net short denoted by - long by +.
EUR -30K vs -29K prior GBP -47K vs -50K prior JPY -93K vs -101K prior CHF -17K vs -13K prior CAD -7K vs -11K prior AUD -70K vs -71K prior NZD -33K vs -35K prior
Specs were on the right side of the trade for the most part last week and that left positioning largely unchanged. The most-crowded position, however, is short-yen and that was squeezed last week, leading to short covering.
Act
Exp
Prev
GMT
Eurozone Prelim Flash GDP (q/q) [P]
0.4%
0.3%
Oct 30 10:00
Italy Prelim GDP (q/q)
0.2%
0.2%
Oct 30 9:00
Latest IMTs