Intraday Market Thoughts
Metals Tumble as Real Yields Shoot
USD outperforms all currencies, while gold and silver were the biggest losers as real bond yields extended higher. US manufacturing ISM to 57.8, reaching its highest since August 2014 from 54.9 in May, with the new orders index hitting 3-month highs. Further accelerating the metals selloff is the decline in the prices paid index of the ISM, which fell to 8-month lows of 55. The 2nd listed trade in the Premium Insights is Ashraf's highest confidence trade in this enviromnment of rising REAL bond yields.
Click To Enlarge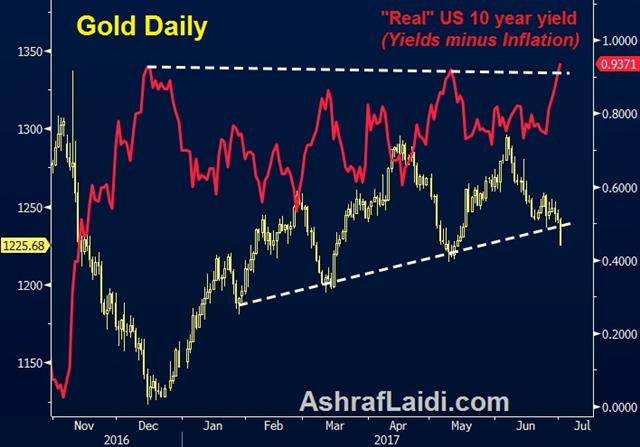 Seasonally, July is the start of a three-month period where bonds strongly outperform while in terms of FX, yen crosses tend to struggle. Over the past 10 years, July has been the worst month for USD/JPY with an average decline of 1.26%.
Finally, oil tends to struggle late in the year but over the past 20 years that weakness has progressively been creeping earlier in the year. July is a soft month over 10 and 30-year periods but it's been severe more recently. In the past three years the average decline has been a whopping 13.8%.
On the fundamental side, the global theme of a hawkish shift from central banks remains new and fresh. The June comments from the BOE, BOC, RBA and ECB were surprises and led to a welcome dose of volatility.
The reason that central banks create trends in the market is that they rarely change course once they commit, especially when global central banks all move in the same direction. What remains incredible is that the near-universal belief in central banks that inflation is going to pick up contrasts to a skeptical market. The hopes is that clear answers are coming in months ahead but the story is rarely that simple. Expect markets to ebb and flow aggressively on conflicting signals and data.Those types of aggressive moves are clear in the last few weeks of positioning data as traders piled into Canadian dollar shorts only to scramble out.
CFTC Commitments of Traders
Speculative net futures trader positions as of the close on Tuesday. Net short denoted by - long by +.
EUR +59K vs +45K prior GBP -39K vs -38K prio JPY -61K vs -50K prior CHF -5K vs -3K prior CAD -49K vs -82K prior AUD +20K vs +15K prior NZD +25K vs +21K prior
Euro longs were +79K two weeks ago, then dropped to +45K and now have rebounded to +59K in a sign that the market is changing its mind on the fly.
Act
Exp
Prev
GMT
Eurozone PPI (m/m)
0.0%
Jul 04 9:00
Latest IMTs