Intraday Market Thoughts
Never Sleep on the Fed
This evening's FOMC decision is being billed as a non-event but that kind of apathy is an elixir for volatility. The healthcare vote in the Senate adds new US dollar risks this week. Market probability of a December rate hike have dropped to 46.5% from 48%. Earlier today, June new home sales rose 0.8% to 610k, slightly below the expected 615k.
Click To Enlarge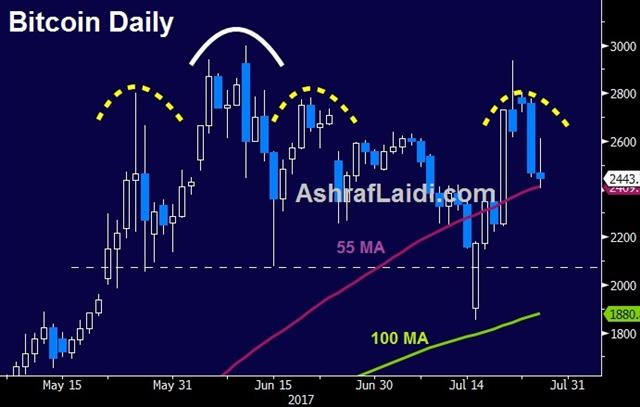 The Fed-trade appears to have hit an impasse. The market has seen a multitude of soft inflation and growth numbers while the Fed insists that positive sentiment numbers will result in better times ahead. Time will tell, but in the meantime we will look for preliminary signals. Some came Tuesday with US consumer confidence at 121.1 compared to 116.5 expected. The Richmond Fed was also strong at +14 compared to the +7 consensus. Those numbers are likely to improve the resolve of Fed hawks, who have been rattled by weak numbers this year. That could translate into a more upbeat or confident tone in the economic assessment. The problem with those figures is that they belong to the "soft" data category, as opposed to the "hard" data, such as retail sales, which have contracted over the last 2 months.
The crux of the problem is inflation, whose latest numbers were also weak, helped set the latest round of USD selling. We don't get the sense the Fed wants to extend itself further into a bet on higher prices until the numbers pick up.
So the Fed is widely expected to stay on the sidelines. If there is a surprise, it's more likely to be on the optimistic side, or along the lines of a more detailed mention of the asset sales plan. We think the market could be underestimating that hawkish tilt and the dollar could certainly bounce if it happens.
The other area to keep an eye on is Washington. Senators will now spend the next few days debating healthcare reform after passing a procedural vote. Expect some messy twists and turns leading to an expected vote on Friday. The margin for error is razor thin and that may cap any dollar gains.
Act
Exp
Prev
GMT
New Home Sales
610K
615K
605K
Jul 26 14:00
Latest IMTs