Intraday Market Thoughts
Oil Bears Decided on OPEC Indecision
OPEC negotiations are once again poised to go down the final hours as old rivals strike a hard line. The latest indications are positive and that's touched off a rebound in oil and CAD. US Q3 GDP was revised to a higher than expected 3.2% from the previously reported 2.9% aided by improved consumer spending. The Premium trade in oil put on Friday remains is currently more tha 100 pts in the green, alongside 2 other indices trades. 2 FX and commodity trades are in the red.
Click To Enlarge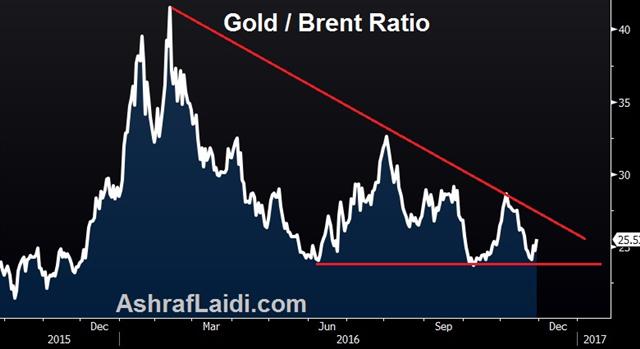 OPEC leaders are convening in Vienna as final talks ahead of Wednesday's announcement begin. On the weekend, signs of discord destroyed the illusion that it was virtually a done deal. Algeria's oil minister flew to Tehran to help broker a deal and a Saudi official said the market could rebalance on its own. That was a signal they would be ready to walk away from any proposal.
Iran and Iraq are the main sticking points. Iraq has shown a willingness to compromise but it wants flexibility to bring production back online in ISIS-controlled areas. Iran is more insistent on raising production to 4 million barrels per day and beyond.
The details are also snagging points. Most of OPEC wants production numbers based on secondary sources, which are usually tabulated by Reuters. Others want the ability to self-report.
The bulk of these questions have lingered for months despite many rounds of meetings and discussions. That points to the unlikelihood of a deal and a potential fall in crude prices.
The flipside is that the consequences of failing are much high. Oil prices are likely to crater if Iran and or Saudi Arabia balks. Meanwhile, either country could 'agree' to a quota and then flout it anyway.
Violating quotas is an OPEC tradition. Some members have violated quotas in every month they've been imposed. Even the most-disciplined countries have broken promises on quotas in 70% of months, according to OPEC watchers
Monday's trade highlights the difficulties in the minute-to-minute trade. Crude dropped to $45.14 at the open on the Saudi comments but rallied back to $47.23 on renewed optimism after comments from Iraq. It is now back at fresh 1-week low of $45.05. Expect the ebb and flow to continue until the last minute of discussions Wednesday.
Month-end trading volatilility will compound OPEC's mixed messages. But watch USDJPY and its pattern of losing US session strength into the Asian session. Yen sellers have tended to back off ahead of the Tokyo session as the Bank of Japan sets to buy JGBS on offer in order to cap yields. But yen selling has resurfaced by the end of Asia trade. We shall watch whether the pattern remains intact in the midst of month-end flows.
Act
Exp
Prev
GMT
FOMC's Powell Speaks
Nov 29 17:40
Latest IMTs