Intraday Market Thoughts
One-Off Hits vs Lasting Impacts
Markets deepen their losses on traders' reluctance to hold on to gains ahead of potentially more virus-related revelations in the weekend. Ashraf tells me to watch the 3202/05 support on the SPX = 55-DMA, a level last reached in Oct 2019. If you thought today's market fall was ugly, then how bad would it have been without the FAANGs? Their contribution to the overall index has been among the biggest in over 20 years. The market is struggling to price in what's happening in China. There was a clear effort Thursday to 'buy the fact' as the WHO declared an emergency after a week of wavering. One main reason for the initial rally (in addition to the Amazon earnings) was that the WHO did not force any nations to restrict travel. Markets care about travel, transportation and demand but known unknowns could be in store over the weekend (More on the virus below). It's been a strong month all-round for USD except against CHF, but USD is struggled these past 2 days, especially as Chicago PMI hit a 5-year low. A new trade was issued yesterday evening backed by 4 charts. Wednesday's DOW30 short hit its final target at 28290 for 520 pt gain with the DOW chart issued at the moment of the trade shown below.
Click To Enlarge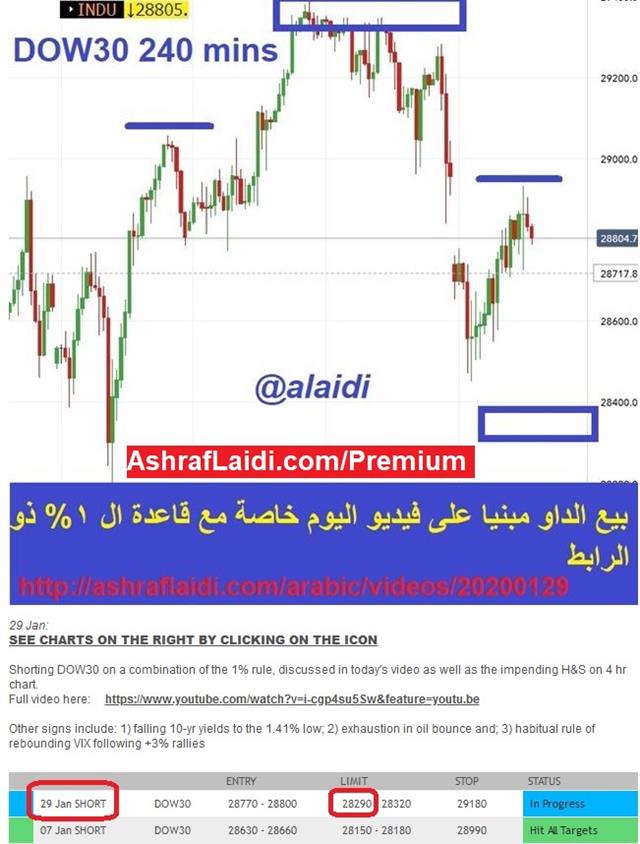 And what about the yield curve. 2 out of the main 4 measures are inverted.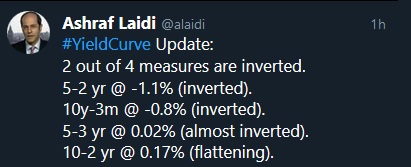 In the big picture, it's important right now to emphasize the difference between a one-off hit to growth and a structural change. Right now, the market is treating coronavirus as a one-off event. So whether it curbs Chinese growth by 1 percentage point this year or 5 percentage points, it will eventually disappear. It's like an 'ex-items' line in an earnings report or an unscheduled one-time plant shutdown. Eventually it's fixed and the business gets right back on track. The equity market is powerful for pricing past those kinds of events, and is trying to do the same with coronavirus,while bonds and FX remain underpinned by US yields and scope for policy inflection points.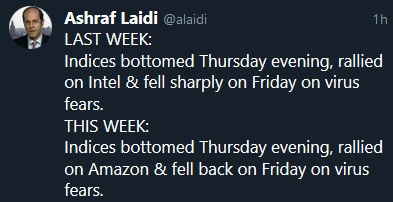 Other events can be lasting, structural changes. One of them is an increasingly clear stance at the Federal Reserve indicating they will allow inflation to run hot to make up for shortfalls. Powell said Wednesday that they're "determined to avoid" the downward spiral in inflation and inflation expectations like in the eurozone and Japan. That's led to a growing belief the Fed will institutionalize that kind of thinking in its policy review. The result is lower rates overall for the foreseeable future via inflation averaging.
Another example is the 5% deficit-to-GDP numbers in the US . A few years ago, we might have expect some path to a balanced budget – and the associated growth drag – but now there's almost no pretense of fiscal responsibility and nothing on the horizon. Eventually the bill will need to be paid but Japan has shown you can push that off for a generation if you have a global reserve currency.
They said last week it may be more than bulls versus bears -- this might be a case of some positive structural factors pushing back against one-off items.
The thing is, those one-off items can expose other faults. You see that time and time again in the stock market where some bad revelation is followed by a series of others. So aside from the coronavirus risk itself, there's the chance it exposes something else, like the large debt overhang in China or unseen political frictions.
Path of 2-week Incubation Period
Next week should be key regarding the spread of the Corona virus. Since we know that the i

ncubation period is 14 days and that Wuhan had been quarantined since January 23rd, then the spread of infections should likely peak by middle of next week

. If that is not the case, then the ominuous conclusion is that either the quarantine was not effective, or that the incubation period may vary at the risk of the outbreak of further cases.
The charts below (not fully revealed) make up the rationale for Thursday's new Premium trade along 6 key bullet points. The trade is already in the green alongside all of the existing 7 Premium trades (5 in FX, 1 on crypto and 1 on commodities)
Click To Enlarge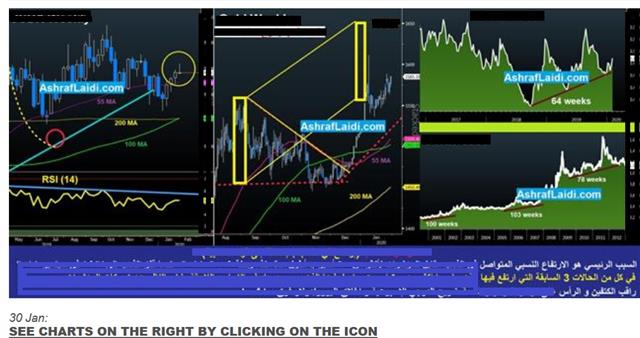 Latest IMTs