Intraday Market Thoughts
Onto China PMIs & RBA Decision
We take a closer look at the Australian dollar with the RBA decision just a few hours away. We also look at cross-asset November performance. On the day, the kiwi led the way while the euro lagged. China's Nov manufacturing and services PMIs are both due at 1:00 GMT/London. The Caixin PMIs are due out 45 mins later. The Premium Video Analysis on the existing trades and other situations is due out. The table of content is posted below.
Click To Enlarge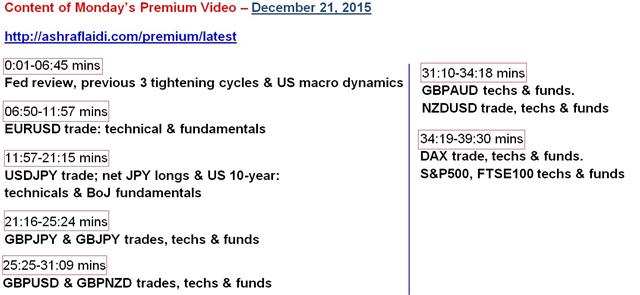 A top fact from November that stands out to us is this: the CRB commodity index fell nearly 7% in November and the Australian dollar was the top performer. The Aussie was bolstered by a strong employment report early but managed to hold the gains despite some soft construction and capex numbers later in the month.
One of the best indicators of underlying strength is when something can rally despite bad news. That's the case with the Australian dollar at the moment but there a two big risks in the day ahead.
The first is the RBA decision at 0330 GMT. Expectations are unanimous for no change. At the start of November the RBA highlighted that monetary policy needs to be accommodative while indicating that prospects for the economy had firmed 'a little' over recent months.
Given the mixed picture of economic data, expect similar economic rhetoric from the RBA or a bias towards an even clearer shift to neutral from dovish. That could be offset by AUD jawboning. The current statement only says the Aussie is adjusting to significant declines in commodity prices. However, the market has proven to be relatively immune from Stevens' jawboning without the threat of rate cuts so a dip may be short-lived.
AUD buyers on or before the RBA also have to consider Q3 GDP numbers on Wednesday. Before they're released, trade data is due today at 0030 GMT. A weak reading will add to the negative bias in the numbers that's already been tipped by soft capex and construction spending. The current consensus for GDP is +0.7% but the market is probably closer to +0.5% and the RBA could hint at that softer growth because they've likely got a preview of tomorrow's GDP numbers.
Overall, the RBA has weathered an impressive storm in November and that sets it up for a strong finish to the year if it can successfully navigate the next two days.
Act
Exp
Prev
GMT
Chicago PMI (NOV)
48.7
54
56.2
Nov 30 14:45
Markit Manufacturing PMI (NOV)
52.6
52.6
Dec 01 14:45
ISM Manufacturing PMI (NOV)
50.3
50.1
Dec 01 15:00
PMI (NOV)
49.8
49.8
Dec 01 1:00
PMI (NOV)
53.1
Dec 01 1:00
PMI (OCT)
48.3
48.3
Dec 01 2:45
Eurozone Markit PMI Manufacturing (NOV)
52.8
52.8
Dec 01 9:00
Construction Spending (OCT) (m/m)
0.5%
0.6%
Dec 01 15:00
RBA Commodity Index SDR (NOV) (y/y)
-19.8%
Dec 01 5:30
Eurozone Unemployment Rate (OCT)
10.8%
10.8%
Dec 01 10:00
Latest IMTs