Intraday Market Thoughts
OPEC Up To Tricks?
The long-anticipated special OPEC meeting will take place in Algiers on Wednesday, we look at the likely outcomes. The Australian dollar was the top performer Tuesday while the euro lagged. China September consumer sentiment and comments from the RBA's Edey are due next. A new Premium video has been posted, charting the existing and futute charts.
Click To Enlarge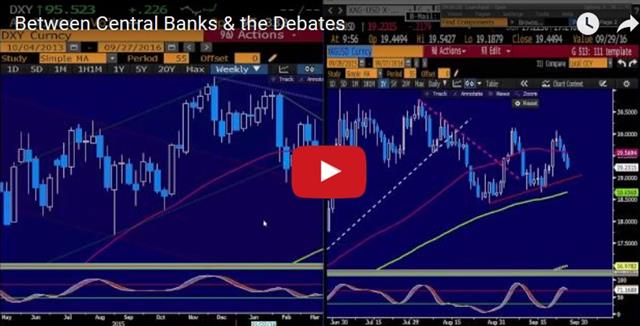 http://ashraflaidi.com/premium/ahead-of-debates-earnings
The oil market has probably priced a 90% likelihood that the meeting in Algiers Wednesday won't result in anything. Several key OPEC members have explicitly said there will be no agreement. But almost in the next breath, the same members have hinted that they are still having discussions.
The urgency from some members to get a deal before the Nov 30 OPEC meeting is real. Many are worried that rising Iranian and Libyan supplies have left the market vulnerable to a sharp drop and that waiting too long isn't an option.
Yet the rift between Iran and Saudi Arabia remains. Lately, the Saudis have sounded open to more Iranian production but the exact battle lines aren't clear and equally important is a dispute about measuring and reporting output.
What's dangerous in the near-term oil trade is that even if the 'expected' outcome of no-deal happens tomorrow, then oil could tumble. In Nov 2014, when OPEC first broke down it was essentially pre-announced but when the actual headlines came, the bottom fell out of crude. We worry about a replay Wednesday.
At the same time, just in the past few hours Saudi Arabia has hinted that the gap is closing. A surprise deal to cap production could spark a brutal short squeeze.
In the middle, OPEC has the opportunity to try and talk down oil. After years of confused messages, leaders have improved their jawboning this year and they may try to hint at a future cut rather than just a freeze. Ultimately, it will all be semantics but in the frantic oil market, that could lead to a big intraday move.
In Asia-Pacific trading today, don't expect the speech from Edey or the 0145 GMT Westpac-MNI China consumer sentiment to be significant market drivers.
Act
Exp
Prev
GMT
Fed Chair Yellen Testifies
Sep 28 14:00
FOMC's Bullard Speaks
Sep 28 14:10
RBA Assist Gov Edey Speaks
Sep 28 0:20
Eurozone ECB President Draghi Speaks
Sep 28 14:30
Latest IMTs