Intraday Market Thoughts
Paradigm Persists, Yields Stabilize
USD strength broadens in a thinly traded Friday session, partly on position squaring from Thursday's USD pullback as traders preferring to be flat ahead of next week's charged Fed event.
Before Thursday's CPI report, we emphasized the pattern in the market around selling pops in the US dollar on inflation surprises. That's exactly what happened
as a hot number was met almost immediately by dollar selling. UMich consumer sentiment is up next.
Gold is down sharply
as US 10-yr yield pushes back up to 1.46%, off its latest 19-week low of 1.43%. Like we said, all currencies are weak vs USD (not just EUR), as is seen in our
FX strength/weakness gauge
below and for an
explainer on how to use this FX gauge
,
watch this video
.
Click To Enlarge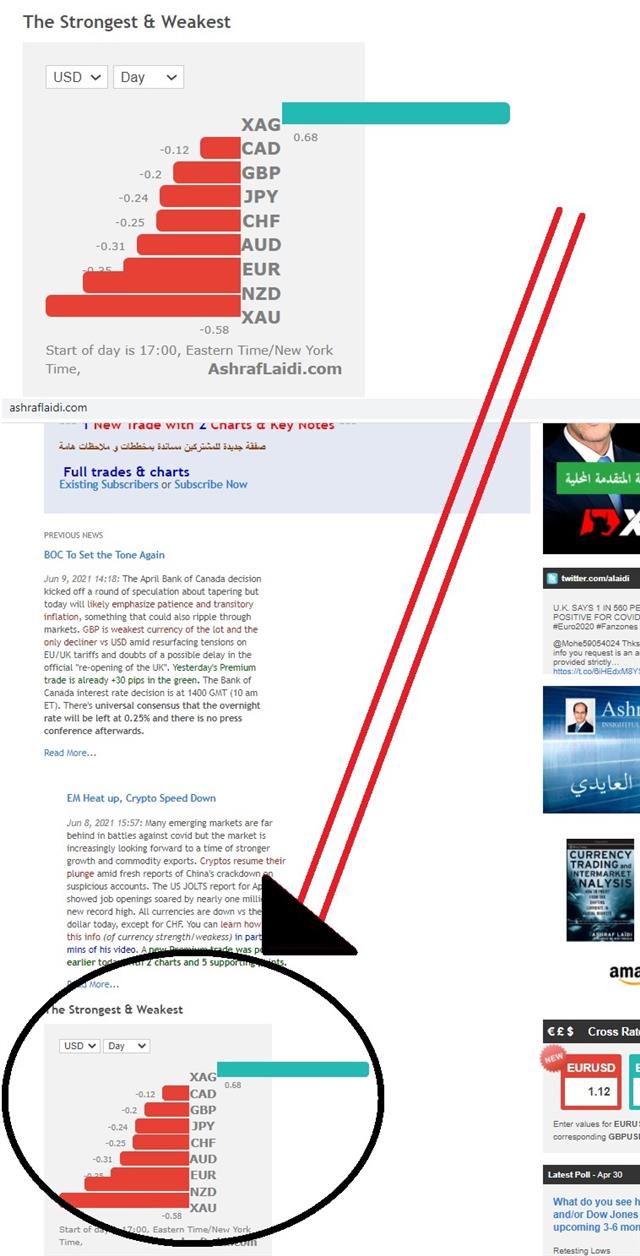 Even though we anticipated dollar selling at some point after CPI, we were struck by the speed and aggressiveness of the move. CPI rose 5.0% y/y compared to the 4.7% consensus and core numbers were similarly strong. Despite that, the spike in the dollar lasted only minutes.
Shortly after the report, the dollar fell to session lows and kept on falling. Ultimately, the moves were modest on net but that they came after the highest CPI reading since 2008 is a sure sign that the market has embraced the Fed's transient view on prices.
More evidence of that continues to come from the bond market. Yields plunged sime more on Thursday with US 10s dropping another 5.9 bps to the lowest intraday since March. The cumulative move in the past week is now 20 bps.10-yr yield is now at 1.46%, off its latest 19-week low of 1.4266.
The power of the move makes is question whether we should be worried about economic weakness going forwards. Perhaps some of that reflects the US infrastructure impasse and pockets of rising covid cases, including in the UK.
There is also talk of a stumble in US consumer spending. To be sure, some decrease is anticipated because spending is roughly 15% above pre-covid levels in large part due to pent-up demand and stimulus cheques. A good barometer of the overall consumer mood is due on Friday with the preliminary UMich consumer sentiment numbers.
Latest IMTs