Intraday Market Thoughts
Pass Poloz the Pepto
Policymakers at the Bank of Canada surely spent the weekend with a case of indigestion after a pair of weak data points raised major questions about a July hike. The Swiss franc was the top performer last week while the Canadian dollar lagged. CFTC positioning data showed euro longs finally bailed as some major shifts took place. After closing the DAX short late last week at 360-pt gain, we re-opened a new short at 12560. The index is currently at 12390. Two yen longs are also in the progress. It will be another light week of data but more is awaited on the trade front.
Click To Enlarge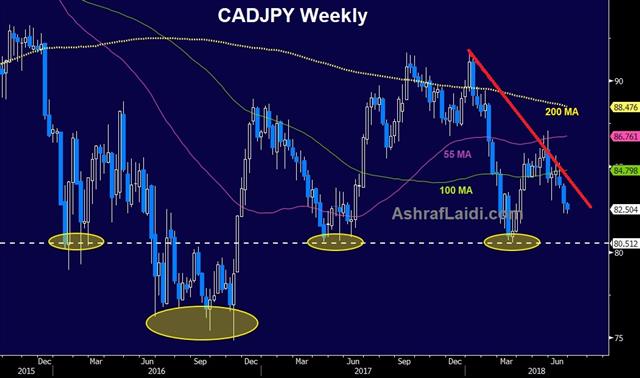 The BOC rate-hike signal in the May statement was a mistake almost the moment it was delivered. Just a day later, the US hit Canada with tariffs and Ottawa is poised to retaliate at the end of the month.
What had looked like a surefire Bank of Canada hike is now priced at just 54% after Friday's weak domestic data compounded trade problems. Retail sales fell 1.2% compared to a flat reading expected while CPI was at 2.2% compared to the 2.6% consensus.
Thankfully, the hawkish May statement still had a nod to data dependence but that may be an embarrassing card to play. At times, the whims of the economy and to send clear signals are beyond the foresight of a policymaker, but this isn't one of those times. The Bank of Canada threw caution to the wind by removing the word caution from the statement and pre-committing to a hike now he will be faced with a difficult decision heading into Wednesday's speech at 15:00 Toronto (20:00 London). He can double down and continue to signal a hike with the risk that trade and the economy could worsen before the July 11 decision. Or he can backtrack, emphasize economic data, and climb down.
At the speech, Poloz will need to send some sort of signal because no one wants to go into the BOC meeting with the odds near 50/50.
In weekend news, the PBOC lowered the RRR for some banks, adding about 700B in liquidity that they've mostly directed banks to use to covert debts into equity. That comes after Shanghai stock markets hit an 11-month low Friday.
Emerging markets are also in focus as Turkey's election looks to be a win for Erdogan.
CFTC Commitments of Traders
Speculative net futures trader positions as of the close on Tuesday. Net short denoted by - long by +.
EUR +36K vs +88K prior GBP -19K vs +11K prior JPY -36K vs +5K prior CAD -14K vs -15K prior CHF -32K vs -37K prior AUD -43K vs -15K prior NZD -16K vs +7K prior
Euro longs have been stubbornly holding on for the past two months but the June 14 ECB meeting finally sent them packing in large numbers and the net long as now at the narrowest since April 2017. It's part of a big shift throughout FX that includes selling in sterling, yen and the antipodeans.
Latest IMTs